역대 최대 할인! 레슨 패키지 15% 할인 혜택.
만료일:

01:00:07:56

(쿠폰이 남았습니다.: 22)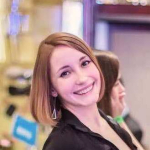 Maria Buyko
이탈리아
•
1:47 PM (GMT+01:00)
시범 레슨
One time, 30 minutes
선생님 통계
매우 빠름
3년 전
100.00%
1
0.0 평균 레슨
새로운 원어민 쌤!
교육 경력

학위
Teaching Chinese to speakers of other languages (Master's)
Chongqing University - Chongqing, China
Fundamental and Applied Linguistics
Kemerovo State University - Kemerovo, Russia
Second Language Acquisition

경력
English language teacher
ACC International School - Chongqing, China
▪ Drafting and preparation of curriculum for different groups depending on students' age, level of English, study purpose; ▪ The organization of the outdoor class and various activities for the children; ▪ Selection of audio and video materials for the conduction of the interactive classes.
Chinese language teacher
Lingua Terra - Kemerovo, Russia
▪ Preparation of study curriculum for Chinese Language groups of different language level, differentstudents' age and different class capacity; ▪ Conduction of Chinese Language classes for the groups listed above; ▪ Conduction of intercultural activities with native speakers of Chinese for the groups listed above; ▪ Conduction of English Language classes as a substitute teacher if necessary.
EdTech entered our lives some years ago and continues to gain strength. According to Forbes.Russia...
카테고리별 원어민 쌤 | 더 찾아보기:
시범 레슨
One time, 30 minutes