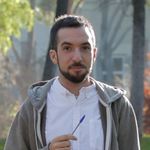 Pablo Ruiz
스페인
•
3:53 AM (GMT+02:00)
원어민 쌤 프로필
¡Hola!
Me llamo Pablo y vivo en Madrid, pero me gusta mucho viajar.

I like to think myself as outgoing and open-minded. I love reading so I can discuss a wide range of topics. I also travelled lots, which greatly enriched my life perspectives.

Soy profesor certificado por el Instituto Cervantes.
I've been teaching Spanish in Morocco, Thailand, Australia, Japan… and now you can hire me online from anywhere.
Spanish is my mother tongue but I can speak English fluently "und ich kann mich auch relativ gut auf Deutsch unterhalten".
I teach ALL LEVELS, from very beginners to advanced specialised learners.
Speed up your conversation, enhance your vocabulary or prepare for any official exam > I'm also a certified examiner for Instituto Cervantes.


•My method pursues an holistic approach to the main linguistic competences so you develop your understanding skills and your expression ability evenly¬

—Writing: fundamental in order to assimilate language structure and boost conversation skills. Real life tasks, useful and enjoyable topics. Overcome the fear of making mistakes from the very beginning.

—Grammar: analysing writing and oral expression allows me to reinforce grammar weak points by using customised assets, from conventional exercises to visual materials and games.

*Conversation: Focus on pronunciation, consolidate vocabulary and train for dynamic talking: connect, react and gain time > hacks, expressions and fillers.
더 보기
나의 체험 레슨
30 minutes is short but enough to get to know your goals and needs, introduce you to my teaching method and, incorporating your suggestions and ideas, adapt it to whatever works best for you. I look forward to meeting you :)
더 보기
시범 레슨
One time, 30 minutes
선생님 통계
몇 시간 이내
5년 전
96.00%
337
23.7 평균 레슨
5.0
교육 경력

학위
Bachelor Communication
Universidad Rey Juan Carlos - Madrid
Focus in Media and Public Relationships

경력
Private Spanish Teacher
Freelance - Casablanca, Madrid, Bangkok, Lima, Barcelona
Private classes for up to 5 people. Developing my own teaching method.

자격증
ELE Didactics
Instituto Cervantes - Madrid
Didactics and tutored practic
First Certificate in English (B2)
University of Cambridge - Cambridge
ELE Tools & Strategies
Centro de Lenguas Modernas (CLM) - Universidad de Granada
Further in competences of ELE teaching
카테고리별 원어민 쌤 | 더 찾아보기:
시범 레슨
One time, 30 minutes