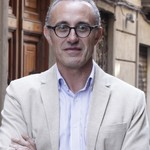 Fran Sánchez Díaz
스페인
•
12:27 PM (GMT+01:00)
선생님 통계
매우 빠름
5년 전
100.00%
30
7.3 평균 레슨
5.0
교육 경력

학위
Rethinking International Tax Law
COURSERA
MASSIVE OPEN ONLINE COURSE (MOOC)
Social Psychology
COURSERA
MASSIVE OPEN ONLINE COURSE (MOOC)
Master of Business Administration (M.B.A.)
Polytechnic University of Valencia - Valencia, Spain
Degree in Economics, Business Administration
University of Valencia - Valencia, Spain
C1 English Certificate
Official Language School of Valencia - Valencia, Spain
Learning English at an advanced level of complete professional competence
Economist Tax Expert Programme
Economist College of Valencia - Valencia, Spain
Study and practice of the main taxes of the Spanish tax system

경력
Chief Financial Officer (CFO)
Empresa General Valenciana del Agua (EGEVASA), Diputacion Provincial de Valencia - Valencia, Spain
Participate in key decisions as a member of the executive management team. Maintain in-depth relations with all members of the management team. Manage the accounting, investor relations, legal, tax, and treasury departments. Oversee the financial operations of subsidiaries. Manage any third parties to which functions have been outsourced. Oversee the company's transaction processing systems. Implement operational best practices.
Managing Director of Postgraduate Training Center
Polytechnic University of Valencia - Valencia, Spain
Implementation of the Center for Continuing Education of the University
University's budget analyst of Social Council
Polytechnic University of Valencia - Valencia, Spain
University Budget Controller
Head of Accounting
MUEBLES ALVI SA - Valencia, Spain
Implementation and carry out cost accounting, as well as financial bookkeeping.
Managing Director
Administradora Psdyco SL - Valencia, Spain
I provide accounting and payroll services to clients ranging from start-ups to companies making as much as € 10 M in annual sales. I also provide tax compliance and planning services to individuals, partnerships and Limited Liability Companies, as well as, teaching Spanish language for businesses purposes. Now I am looking for medium and small Spanish companies which want to develop their business in Colombia by setting up a new company there.

자격증
Metodología y Didactica del Español como Lengua Extranjera
Universidad de Valencia e Instituto Cervantes - Valencia, Spain
Metodología y didáctica del español como L2-LE, del Programa de formación de profesores 2016 (Español como Lengua Extranjera y otras lenguas), organizado conjuntamente por el Instituto Cervantes y la Universidad de Valencia, con una duración total de 140 horas ( 100 horas presenciales, 20 horas de trabajo de investigación y 20 horas de prácticas )
B2 English Certificate
Official language school of Valencia - Valencia, Spain
Learning English as an independent user according to the European Common Frame of Reference for Language Learning
International Legal English
University of Valencia - Valencia, Spain
¿Cómo se escriben las horas? Siempre que sea posible, lo más adecuado es escribir las horas con letras...
¿Hay que escribir los números con cifras o con letras? Depende del contexto. Es preferible escribir...
카테고리별 원어민 쌤 | 더 찾아보기: