10% 할인 혜택을 받아 더 많이 배워 보세요.
만료일:

01:11:53:33

(쿠폰이 남았습니다.: 22)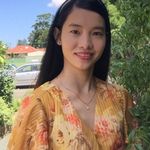 Vy Nguyen
베트남
•
12:01 PM (GMT+11:00)
시범 레슨
One time, 30 minutes
선생님 통계
매우 빠름
3년 전
100.00%
0
0.0 평균 레슨
새로운 원어민 쌤!
교육 경력

학위
Bachelor Degree in Teaching English as a Foreign Language
University of Foreign Language Studies - The University of Da Nang - Danang, Vietnam
Focused on Teaching English as a Foreign Language, Examined the differences between Vietnamese and English

경력
English Teacher
EZ Learning English Center - Danang, Vietnam
Specialized in teaching TOEIC and communnication
English Teaching Assistant
NARO English Center - Danang, Vietnam
• Assisted native English teachers in giving instructions and explaining lessons to students in Vietnamese
English Teacher
Windy English Center - Saigon, Vietnam
Teach TOEIC and English communication
English and Vietnamese Teacher
Freelance - Danang and Saigon, Vietnam
I started using the website https://mylanguageexchange.com/Minfo.asp?UId=1954097 to exchange English and Vietnamese with foreigners in 2011. I started teaching some of them Vietnamese since then. From 2015, after my graduation, together with teaching English, I also taught Vietnamese to some foreigners from Australia and America. I am now focusing on teaching Vietnamese as a full time job. I am both teaching online at https://www.italki.com/vivian and in person in Ho Chi Minh city to students from America, Korea, Canada, Austria, Belgium...

자격증
TOEIC Certificate of Achievement
IIG Viet Nam - Da Nang Office - Danang, Vietnam
Certificate in French - A2 level
University of Foreign Language Studies – The University of Da Nang - Danang, Vietnam
Certificate of English Language Proficiency - C1 level
University of Foreign Language Studies – The University of Da Nang - Danang, Vietnam
카테고리별 원어민 쌤 | 더 찾아보기:
시범 레슨
One time, 30 minutes