역대 최대 할인! 레슨 패키지 15% 할인 혜택.
만료일:

04:19:21:20

(쿠폰이 남았습니다.: 66)
Yingjuan 님은 일시적으로 이용 불가합니다.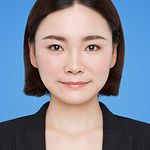 Yingjuan Wu
마케도니아
•
6:33 PM (GMT+01:00)
선생님 통계
매우 빠름
2 years ago
100.00%
0
0.0 평균 레슨
새로운 원어민 쌤!
교육 경력

학위
B.A Law
Southwestern University of Finance and Economics - chengdu,China
Southwestern University of Finance and Economics (also known as SWUFE, Chinese: 西南财经大学; pinyin: Xīnán Cáijīng Dàxué) is a national university in Chengdu, Sichuan province, China. The university is under the direct administration of the Ministry of Education and is famous for its faculty of business administration in China. The school is listed in both Project 211 and the 985 Innovative Platforms for Key Disciplines Project as part of the national endeavor to build world-class universities. It is a Chinese Ministry of Education Double First Class Discipline University, with Double First Class status in certain disciplines.

경력
working certificate
The Confucious Institute at Ss.Cyril and Methodius University in Norther Macedonia - Skopje,North Macedonia
 In charge of 7 groups,including the beginner and advanced groups and Hsk group  All of my students passed HSK1,the students in advanced group and HSK group passed HSK3  The textbook I use:《New Practical Chinese Reader 》,《Road to success》,《Chinese Paradise》, 《HSK Standard course 》  Invigilated HSK tests four times,familiar with the process of HSK test.

자격증
Certificate of volunteer chinese teacher
Confucius Institute Headquarters(Hanban) - Beijing,China
this certificate,issued by Confucius Institute Headquarters(Hanban),is to certify that the certificate holder has completed the training and passed the examination organized by Confucius Institute Headquarters(Hanban) and has met all requirements as a qualified Volunteer Chinese Teacher.
Mandarin Proficiency
国家语言文字工作委员会 - Ningxia,China
The Putonghua Proficiency Test or Putonghua Shuiping Ceshi (PSC) is an official test of spoken fluency in Standard Chinese (Mandarin) intended for native speakers of Chinese languages. The test was developed in October 1994 by the Ministry of Education of the People's Republic of China, the Institute of Applied Linguistics at Beijing Language and Culture University and the State Administration of Press, Publication, Radio, Film and Television.[1] Specified standards of achievement in the test are required for many jobs in broadcasting, education and government。
카테고리별 원어민 쌤 | 더 찾아보기: