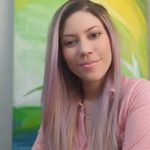 Adela C Dominguez
Колумбия
•
1:37 PM (GMT-05:00)
Действующая акция (

10%

off)
enter this coupon to get a -10 % package of 5 lessons B1
Язык(-и) общения
Родной
,
C2
Обо мне
⭐️Entre gustos y colores hay un mundo de opciones⭐️

My grandfather used to say that, meaning that we all have different tastes and preferences, and that's what makes our world amazing. In this Spanish learning journey, let me help you. I adapt to all my students working on listening, speaking, writing, grammar and comprehension using strategies that work better for you.

In our first class we'll have a simple conversation where I'll assess your level. I'll learn from you about what teaching strategies to use and your preferences. By the end of our first class I'll have a plan ready that we'll revisit to adjust if necesary.

Here is no "one size fits all", it's your journey and you should enjoy it. Let's do this!

By the way, I'm an engineer (so I'm always looking for solutions), a licensed teacher, a certificated Spanish teacher as a foreign language, a professional translator and a published author. I have been teaching Spanish online to all levels, from 4 to 99 years old for the last 7 years. You are in good hands 😎

💖I´m venezuelan living in Colombia, I've traveled around, my accent is neutral, if travel is in the cards for you I'll teach you phrases from everywhere, what's safe to say and what isn't.

Also, I love love love to read, if you are a fellow reader be ready for some book club.

so...

Book a trial lesson with me and let's start from there.

I'll see you soon.

Подробнее
Пробный урок
Один раз, 30 минут
Статистика учителя
В течение нескольких часов
6 лет назад
99.00%
954
13.2 уроков в среднем
5.0
Опыт и знания в обучении
Начальный
Выше начального
Средний
Выше среднего
Продвинутый
Суперпродвинутый
Резюме

Образование
Ingeniera Mecanica
Universidad Santiago Mariño. Venezuela - Zulia, Venezuela
Ingenieria en Mantenimiento Mención Mecánica

Опыт работы
freelance tutor
freelance tutor. London, United Kingdom - London, United Kingdom
Spanish teacher/tutor for foreigners using ELE actual
Spanish and English teacher
Private School Jesús Aníbal Alfonzo - Venezuela, Zulia
Spanish and English teacher children aged between 11 – 16
freelance Skype tutor
Skype tutor - Online
Online Spanish tutor using ELE digital

Сертификаты
Profesora de Español como Lengua Extranjera
Universidad de Barcelona - Barcelona, España
Formación de Profesor de Español como Lengua Extranjera
Componente docente
UNERMB - Venezuela, Zulia
Even Though there are many unbreakable divisions in the world -- the Continental Divide, Republicans...
Saber Vs. Conocer In Spanish, there are two verbs that express the idea "to know". These two verbs...
Просмотрите профили других учителей, выбрав нужный аспект:
Пробный урок
Один раз, 30 минут