Небывалая распродажа! Скидка 15% на пакеты уроков.
Срок действия истекает через:

03:04:13:48

(Осталось купонов: 44)
Sara временно не работает.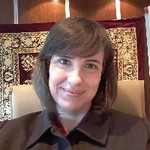 Sara Valencia
Испания
•
9:41 AM (GMT+01:00)
Пробный урок
Один раз, 30 минут
Индивидуальные уроки
60 минут
Статистика учителя
Очень быстро
4 года назад
100.00%
0
0.0 уроков в среднем
Новый учитель
Опыт и знания в обучении
Начальный
Выше начального
Средний
Выше среднего
Продвинутый
Суперпродвинутый
Резюме

Образование
Official Master's Degree in Spanish Language, Hispanic Literature and Spanish as a Foreign Language for the Spanish education system.
Universidad de Alcalá - Alcalá de Henares (Madrid), Spain
This master prepared me to teach in the Oficial Spanish High Schools, Universities and Official Language Schools.
Official MA as an Expert in teaching Spanish as a foreign Language
Universidad de Alcalá - Alcalá de Henares (Madrid), Spain
This Master, certified by the EU, complete the requirements for teaching in all the European Countries, and allowed me to improve my teaching skills.
Masters Degree in Spanish as a Second Language
Universidad de Alcalá - Alcalá de Henares (Madrid), Spain
I left my home city to study this Masters degree to specialize on Spanish teaching due to its prestige, it is considered one of the best Universities in this field, and the master was one of the oldest ones in Spain (since 1994).
Graduated in Journalism
Universidad Cardenal Herrera Oria - Valencia, Spain
My passion about communication, my will to master the Spanish language in its different forms (writing style in many forms and contexts, speaking skills at radio or TV), and my need of having a general knowledge of the world we are living (politics, literature, economics,history, philosophy) lead me to study Journalism, only to discover that I could use all that knowledge and skills to help to the people interested to understand, learn and enjoy about Spanish Language, culture and lifestyle, so they can take what they like and live the best of our culture as a part of their life.

Опыт работы
Instituto Cervantes DELE official trainer and member of the Examine-Board
Instituto Cervantes - Madrid, Spain
As a Cervantes Institute accredited trainer since 2009, I teach courses at different levels to prepare my students for the Spanish as a Foreign Language diploma. I have also been administering the exam many times a year until now as a part of the Examine-Board.
Spanish Teacher
Escuela Internacional de Idiomas Enforex (Private Language School Acredited by Instituto Cervantes) - Madrid, Spain
I have been teaching in this Academy since 2007 as a full time teacher until March 2016, now I work as a part time there so I can work as a freelance. In this place I have been working with students of all the world and very different ages and background, so I have learnt a lot day by day about my job and my student´s needs.
Spanish Teacher
United Nations World Tourism Organization - Madrid, Spain
I teach to the UN staff, taking into account their different cultural background and learning styles. They travel very often, so I use with them on line platforms as Edmodo to work. The use of audiovisual material is very important for them. I need to focus on communication needs (e.g.correspondence, e-mails, calls, presentations, etc.), and other language applications at UNTWO.
Просмотрите профили других учителей, выбрав нужный аспект:
Пробный урок
Один раз, 30 минут
Индивидуальные уроки
60 минут