Olga geçici olarak mevcut değil.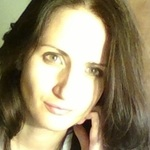 Olga L.
Avusturya
•
1:15 PM (GMT+01:00)
Konuşur
Ana Dil
,
Ana Dil
,
C2
,
A1
,
A1
,
A1
,
A1
Deneme Dersi
Tek Seferlik, 30 dakika
Öğretmen İstatistikleri
Aynı gün
4 yıl önce
98.00%
244
15.5 ders ortalaması
4.8
Öğretme Başarısı
Yeni Başlayan
Üst Başlangıç seviyesi
Orta düzey
Üst Orta seviye
İleri düzey
Üst İleri seviye
Özgeçmiş

Eğitim
M. A. in English and American Studies
Europe
English Literature and Linguistics
B. A. (with honors) in English Language and Literature
Israel
English Literature and Linguistics
B. A. in Economics (unfinished)
Israel

Çalışma Deneyimi
Loss Adjustor and International Coordinator; Translator
Producing and translating survey reports in engineering, property and liability insurance (including machinery breakdown, electronic equipment, loss of profit, etc.); Providing underwriting information evaluations for international clients and communicating them to high executive levels; Translating comprehensive insurance policies and legal documents pertaining to court proceedings in the context of liability and loss adjustment; Facilitating communication and maintaining business relations with international corporate clients; Collaborating with international underwriting agents with multiple locations and business operations.
Professional Private Language Tutor
Self-Employed - Europe, Middle East
Instructing and assisting students and preparing them for tests and university entrance exams (TOEFL, IELTS, CELPIP, TOEIC, etc.) Teaching effective communication in English in social and professional contexts, including resume/CV editing, job interview preparation, formal writing and professional presentation skills. Developing personal study strategies and techniques, expanding vocabulary, imroving reading and listening comprehension. Assisiting college and university students with academic writing. Providing a regular training and evaluation feedback.
Diğer öğretmenlere göz atın:
Deneme Dersi
Tek Seferlik, 30 dakika