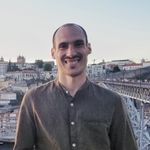 Hugo Lúa Pérez Flores
Kanada
•
1:14 AM (GMT-07:00)
Konuşur
Ana Dil
,
Ana Dil
,
Ana Dil
,
C1
,
B2
Hakkımda
Hi there!
My name is Hugo, I am from Vigo (Spain) and I would love to share my time and my knowledge with all of you. Languages are my life, I love to learn, study and teach them.
My background is full of different activities, as engineering, hostel management or server, living in several countries (Portugal, Brazil, Canada,etc). So, after all my trips and experiences my path brought me here, to the educational and teaching world. I had always passion teaching languages, I started in my Erasmus year (2009) in Budapest teaching Spanish on-line just for fun and then I was getting more and more practical experience in a small school in Brazil, then in Canada for a long time, until I decided to become a teacher in 2018.
I developed my system during all this years, first from my personal experience and the students experience and then from all the books about pedagogics and finally from my ELE course (Español como Lengua Extranjera or Spanish as a Foreign Language). The system is completely flexible and adaptable where YOU, the students, are the bosses and my job is to be able to communicate with you, empathize and show you the amazing world of the Spanish language and culture. I teach always based on your knowledge, hobbies, what you enjoy and just focusing on feeding your motivation to keep it always high. I always try to make funny lessons, where everyone can learn, enjoy and have a good time.
As I said I am certified in ELE, I have experience with beginners, intermediate and advanced levels (from A1 to C2), so I invite and encourage all of you, to start this new experience!

Languages are culture, and culture is exciting and useful, how is possible to make it boring?

Devamını Oku
Deneme Dersi
Tek Seferlik, 30 dakika
Öğretmen İstatistikleri
Birkaç saatte
3 yıl önce
100.00%
505
38.5 ders ortalaması
5.0
Öğretme Başarısı
Yeni Başlayan
Üst Başlangıç seviyesi
Orta düzey
Üst Orta seviye
İleri düzey
Üst İleri seviye
Andalusian Spanish
Castilian Spanish
Chilean Spanish
Latin American Spanish
Mexican Spanish
Rioplatense Spanish
Özgeçmiş

Sertifikalar
Diğer öğretmenlere göz atın:
Deneme Dersi
Tek Seferlik, 30 dakika