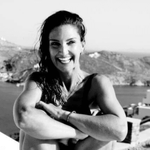 Ileana Thomoglou
Yunanistan
•
3:25 AM (GMT+02:00)
Hakkımda
Hi! My name is Ileana and I'm a native English speaker living in Athens, Greece! I've lived abroad all of my life and have spent the last ten years working with ESL learners of all ages both privately and through English Education Lab, an online ESL teaching forum. My BA in Communications, obtained in Canada along with my 15 years of work experience in the field of journalism both in Canada and Europe (specifically for The Ottawa Citizen, Kathimerini and the International Herald Tribune newspapers) allowed me to build the communication skills that would later prove to be necessary in my teaching career.

After moving to Greece in 2002, through my work I often came into contact with people who needed and wanted to improve their English skills both for themselves and for their career. Again and again, I noticed what people needed most was the chance to practice using the language in a comfortable and natural setting while also having fun! It was then that my passion for helping others achieve their English language learning goals was ignited! I realized that I could use my skills and experience to help others feel more comfortable and confident while using the language. That is when I started my adventure in teaching English- and I've never looked back since!

I am an energetic and outgoing individual who loves meeting new people and helping them achieve their life goals through conversation! My main focus is on conversational English, whereby I encourage students to find their voice and build their language skills in a fun, relaxed and encouraging environment. I look very forward to helping YOU reach your goals!


Devamını Oku
Deneme Dersi
Tek Seferlik, 30 dakika
Öğretmen İstatistikleri
Birkaç saatte
5 yıl önce
100.00%
1
0.0 ders ortalaması
Yeni Öğretmen
Özgeçmiş

Eğitim
Bachelor of Arts- Communications
Doğrulanmış
University of Ottawa - Ottawa, Canada
Diğer öğretmenlere göz atın:
Deneme Dersi
Tek Seferlik, 30 dakika