Melissa geçici olarak mevcut değil.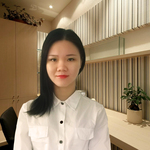 Melissa Lai
Çin
•
11:16 PM (GMT-05:00)
Konuşur
Ana Dil
,
Ana Dil
,
B2
,
B1
Deneme Dersi
Tek Seferlik, 30 dakika
Öğretmen İstatistikleri
Çok kısa sürede
3 yıl önce
100.00%
1
0.0 ders ortalaması
Yeni Öğretmen
Öğretme Başarısı
Yeni Başlayan
Üst Başlangıç seviyesi
Orta düzey
Üst Orta seviye
İleri düzey
Üst İleri seviye
Özgeçmiş

Eğitim
Doğrulanmış
Guangdong University of Foreign Studies - Guangdong Province, China
Teaching Chinese to speaker of the other languages

Çalışma Deneyimi
Chinese teacher
Institute confucius of University of Catholic Santa Maria - Arequipa. Peru.
Teaching students from the college and the society
Chinese Teacher
Sekolah Nasional Plus Jembatan Budaya - Bali, Indonesia
I taught Chinese to students age from 4 to 20 years old .To promote their listening and speaking abilites and develop their interests by using different kinds of teaching methods. And they made great progress.
Online Chinese Teacher
Guangzhou
I teach Chinese online by Skype.
Diğer öğretmenlere göz atın:
Deneme Dersi
Tek Seferlik, 30 dakika