Regina geçici olarak mevcut değil.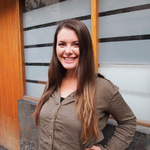 Regina Calco
Şili
•
12:21 PM (GMT-03:00)
Deneme Dersi
Tek Seferlik, 30 dakika
Öğretmen İstatistikleri
Çok kısa sürede
4 yıl önce
100.00%
1
0.0 ders ortalaması
2.5
Özgeçmiş

Eğitim
A.A English Language and Literature
Berkeley City College - Berkeley, California

Çalışma Deneyimi
English Teacher
Tronwell - Santiago, Chile
I worked with three different groups of students each day, each group varying in level. I have taught all ages of English learners and levels ranging from beginner all the way to the most advanced levels. I gained experience in teaching in a real classroom setting and how to be observant and helpful with student progress and participation.
ESL Assistant
Berkeley City College - Berkeley, California
Helped students learn and achieve literacy objectives by working with individual students or small groups so that they could attain grade level proficiency.
Private English Teacher
Private English Classes - Santiago, Chile
I have applied my knowledge from my personal experience working as an ESL Assistant and from my experience working at the TRONWELL institute in Santiago, Chile, into my private English classes.  I have guided over 10 TOEFL students into successfully passing the exam. I have achieved a specialty in the area of teaching and guiding students that are interested in taking the TOEFL exam.  I base all my private English classes on conversation and listening skills.

Sertifikalar
International TEFL and TESOL Training
ITTT - TEFL Online
Deneme Dersi
Tek Seferlik, 30 dakika