Gelmiş geçmiş en büyük indirim! Ders paketleri %15 indirimli.
Kalan Süre:

01:17:52:21

(Kalan Kupon: 22)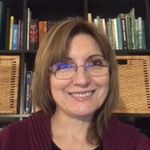 Adela María Bayo Sáez
İspanya
•
7:02 AM (GMT+01:00)
Hakkımda
I am spaniard, from Valencia city at the Mediterranean cost. I moved in Canada 5 years ago and started to teach Spanish. I got the ELE certificate validated by The Cervantes Institute as I actually enjoyed by teaching and decided to make it my future career. I do 100% Spanish classes using enjoyable tools for the students have fun while learning. Specially for beginners some English support is required, so I do it. I consider my teaching skills are quite good because of the results and feed back. Same happened when I taught Gemology for 20 years in Spain. I adapt my method to the student's personality and/or needs. I always try to go over every language learning area: Listening, Reading, Writing , and emphasizing the Speaking, which is the most difficult to improve alone. I have experiance in teaching Spanish for every level from A1 to C1 and for all kind of purposes. Depending on the student goals, I prepare grammar power point to help, do exercises, records, videos, media, performance theatre, and or games. I am a creative person, reason because of I enjoy this job so much. I want to be in a continuing learning and usually participate in the anual Spanish Teachers Congress in Montreal, Canada to get more ideas and tools. I like a lot to travel and consider myself fortunate as I had the opportunity of visiting so many countries. I have a bachelor degree in Biology and, of course, I like very much nature. Swimming, skying and hiking are my main hobbies.
Devamını Oku
Deneme Dersi
Tek Seferlik, 30 dakika
Öğretmen İstatistikleri
Çok kısa sürede
4 yıl önce
100.00%
4
0.0 ders ortalaması
Yeni Öğretmen
Özgeçmiş

Eğitim
Teacher of Spanish as a second language
Tia Tula Colegio de Español - Salamanca, Spain
Focus in teaching Spanish language for every level
University Expert in Natural Therapies
Universidad de Barcelona - Barcelona Spain
Focus in Natural Therapies like Nutrition, homeopathic, Herbs therapies...
Bachelor´s and Master´s degree in Biology
Universitat de les Illes Balears - Mallorca, Spain
Focus in Natural and metabolic Sciences

Çalışma Deneyimi
Resume
Laboral life - Canada and Spain
Diğer öğretmenlere göz atın:
Deneme Dersi
Tek Seferlik, 30 dakika