Maria geçici olarak mevcut değil.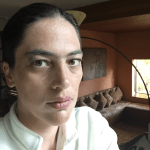 Maria Amador
Amerika Birleşik Devletleri
•
4:56 AM (GMT-06:00)
Konuşur
Ana Dil
,
Ana Dil
,
B2
,
A2
Deneme Dersi
Tek Seferlik, 30 dakika
Öğretmen İstatistikleri
Çok kısa sürede
3 yıl önce
100.00%
0
0.0 ders ortalaması
Yeni Öğretmen
Öğretme Başarısı
Yeni Başlayan
Üst Başlangıç seviyesi
Orta düzey
Üst Orta seviye
İleri düzey
Üst İleri seviye
Özgeçmiş

Eğitim
B.A. Anthropology
Bryn Mawr College - Bryn Mawr, PA
Thesis: Theater of Witness as a Means of Social Change

Çalışma Deneyimi
Professor of English Language
Anahuac University - Oaxaca de Juárez, Oaxaca, México
Inspired and coached university students in attaining proficiency in english language speaking, listening, reading and writting skills.
Spanish Language Teacher
Spanish Language School - Philadelphia, PA, USA
Taught Spanish as a second language with an emphasis on grammar and vocabulary using contextual conversations.
Private English Tutor
Instituto de Comunicación Internacional - Guadalajara, Jalisco, Mexico
Mentored Hewlett-Packard executives in expanding their english vocabulary and perfecting their communication skills.
Teacher Assistant
Bryn Mawr College - Bryn Mawr, PA, USA
Revised and proofread essays. Tutored and lectured students in Spanish.
Diğer öğretmenlere göz atın:
Deneme Dersi
Tek Seferlik, 30 dakika