Gelmiş geçmiş en büyük indirim! Ders paketleri %15 indirimli.
Kalan Süre:

05:10:43:28

(Kalan Kupon: 66)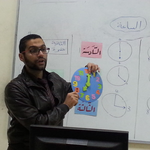 Abdallah Ehab
Malezya
•
9:11 PM (GMT+08:00)
Konuşur
Ana Dil
,
B1
,
B1
,
B1
Hakkımda
Having tutored Arabic over the past 8 years to over 500 students from every continent of the world, I am well placed and very keen to help you improve your Arabic at a pace and in a way that fits you.
I am experienced in Modern standard Arabic, Egyptian colloquial, Media Arabic, Grammar, and literature. I would be glad to help you with gaining fluency in Arabic. Provided instruction using a multi-media approach including the use of printed study materials, flashcards, audio exercises, videos, films, and games to create a more holistic approach to language learning and development; Aided students in developing and improving speaking, listening, writing and reading skills.
Devamını Oku
Deneme Dersi
Tek Seferlik, 30 dakika
Öğretmen İstatistikleri
Birkaç saatte
6 yıl önce
27.00%
269
14.0 ders ortalaması
4.9
Öğretme Başarısı
Yeni Başlayan
Üst Başlangıç seviyesi
Orta düzey
Üst Orta seviye
İleri düzey
Üst İleri seviye
Modern Standard Arabic (al-fusha)
Özgeçmiş

Eğitim
B.A. in Arabic language., Pre Masters in Arabic language
Ain Shams University - Egypt
2013-2014 Arabic Teacher, for 5th grade in Al Orman language school, Cairo, Egypt. 2012-2014 Arabic Teacher for non-Arabic speakers, in Resalah Training Centre (R.T.C), Cairo, Egypt. 2014-2015 Arabic Teacher, for 1st grade (primary) in Al Safa Al-Azhari language school, Cairo, Egypt. 2013-2015 Arabic Teacher for non-Arabic speakers, in Lessan centre for teaching Arabic as a foreign language, Cairo, Egypt. 2014-2015 Arabic Proof-reader, in Al Mostaqbal centre for printing and publishing, Cairo, Egypt. 2015-2016 Journalist at Akhbar Masr News 2015-2016 Arabic Teacher for non-Arabic speakers, in Sofara'a Al Hedaya Center, Al Darrasa, Cairo, Egypt. 2015-2017 Arabic lecturer in: Al-Azhar Al- Sharif "Al-Sheikh Zayed Center for Teaching Arabic for non-native" Al Azhar University, Nasr City, Cairo, Egypt.Arabic lecturer in: "Al-Sheikh Zayed Center for Teaching Arabic for non-native" Al Azhar University"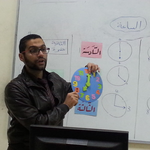 Diğer öğretmenlere göz atın:
Deneme Dersi
Tek Seferlik, 30 dakika