Gelmiş geçmiş en büyük indirim! Ders paketleri %15 indirimli.
Kalan Süre:

03:02:40:23

(Kalan Kupon: 44)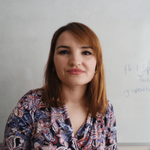 Ece
Türkiye
•
12:14 AM (GMT+03:00)
Hakkımda
"Highly qualified Turkish teacher with 8 years of experience"
I have multiple degrees in teaching Turkish as a foreign language and I have been teaching foreigners since 2014. I specialized in teaching pragmatics (functions of each form or expression in the languages basically) in my academic career but I teach general Turkish. After having my BA in Turkish Language and Literature at Mimar Sinan University, I got my teaching certificate from Duzce University. Also, I hold a MA in teaching Turkish as a foreign/second language and four of my studies in that field were published in academic journals.

I had the chance to work with many different student profiles. At the beginning of my career, I was teaching Turkish to Erasmus students. In the following years, I worked for a private university that has its own courses for foreign students who will study in Turkey. Also, I lectured both for Turkish courses and Erasmus students at Yildiz Technical University while studying for my master's degree. Thanks to that, I got experience in working with intensive groups and testing. For the last 6 years, I have been teaching ex-pats and their families from many foreign and local companies such as IKEA, Mitsubishi, Toyota, Amadeus, Bando, Allianz Sigorta, LC Waikiki, P&G, GSK, Anadolu Grup, Pixar, etc. Besides, I help consul generals, ambassadors, and diplomats from different countries to get prepared for their Turkish exams.I recently got my certificate for dyslexia and foreign language learning.

I generally prefer to create my own materials since I would like to provide completely customized classes that focus on my students' needs. In addition to this, I make use of sources like course books and exercise books from different schools. During my lessons, I focused on improving my students' communication skills with an integrated approach. On the other hand, my students exploit working with a teacher who specialized in pragmatics and it helps them to feel more comfortable compared to other Turkish learners when starting a dialogue, maintaining a dialogue, or finishing it. The progress of the students is checked by tests or self-check charts according to the student's preference. Also, the curriculum is shared periodically with students and discussed if there is a problem with previous subjects.

A student who has no Turkish vocabulary can be able to introduce himself/herself, talk about his/her likes and dislikes, make a shopping dialogue, and count to 10 after the first lesson with me.
Devamını Oku
Deneme Dersi
Tek Seferlik, 30 dakika
Öğretmen İstatistikleri
Birkaç saatte
6 yıl önce
88.00%
401
49.0 ders ortalaması
5.0
Öğretme Başarısı
Yeni Başlayan
Üst Başlangıç seviyesi
Orta düzey
Üst Orta seviye
İleri düzey
Üst İleri seviye
Özgeçmiş

Eğitim
M.A.
Yıldız Technical University - İstanbul
Teaching Turkish for Foreigners
B.A.
Mimar Sinan University - İstanbul
Turkish Language and Literature

Çalışma Deneyimi
Turkish Teacher
in a language school - İstanbul
Online Turkish Teaching
İstanbul, Turkey
Teaching Turkish online in Skype or the other video chat applications
Turkish Lecturer
Yıldız Technical University - İstanbul, Turkey
Turkish Lecturer
Yıldız Technical University Teaching and Researching Turkish Center - İstanbul
Turkish Teacher
New York Studio of Languages - İstanbul
Teaching Turkish for foreigners
Turkish Teacher
University of Istanbul Aydın - İstanbul
Teaching Turkish for foreigners
Turkish Teacher
Turkish Atelier - İstanbul
Teaching Turkish for foreigners
Turkish Teacher
İMKB Industrial and Technical High School - Düzce,Turkey
Teaching Turkish and Literature
Turkish Teacher
Cumhuriyet Primary School - Düzce,Turkey

Sertifikalar
32nd Congress of Linguistics
Dokuz Eylul University - Izmir
The Difficulties Encountered Within -mA and -mAk Suffixes In Syntactic Aspect Teaching Turkish As a Foreign Language
International Symposium on Textbooks 2018
Yildiz Technical University - Istanbul
Assisting Teaching Turkish As a Foreign Language Coursebooks within Grammatical Accuracy- Announcer
International Congress of Turkish Education and Teaching
Istanbul Okan University - İstanbul, Turkey
Announcer of Teaching Turkish As A Foreign Language B1 Speaking Programme
2. Teaching Turkish As 2. Language Congress in Munich
Istanbul Medeniyet University, Sakarya University and Ludwig Maximilian University - Munich, Germany
Certificate
University of Duzce - Düzce,Turkey
Teaching and Pedagogic Formation
Diğer öğretmenlere göz atın:
Deneme Dersi
Tek Seferlik, 30 dakika