Gelmiş geçmiş en büyük indirim! Ders paketleri %15 indirimli.
Kalan Süre:

03:17:21:05

(Kalan Kupon: 44)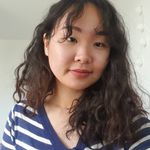 지희
Güney Kore
•
8:33 AM (GMT+02:00)
Hakkımda

안녕하세요 🙋🏻

I speak Korean, English(C1), and french(B2)
I grew up in Seoul, Korea.
Learning language is always interesting, you'll know a new world entirely, I know it's hard for the first time but when you are with someone who supports you, I'm sure that you'll reach soon.



🏳️‍🌈 To tell you about the lesson,

Every document is prepared
- all document is ready for you, I'll give you PDF and homework each lesson.
there are several kinds of pdf which are specialized with vocas , grammar, reading , speaking , discussion etc... and we will select them depending on your level/your needs, so don't worry to buy or prepare books before.



🏳️‍🌈 Experiences about teaching

-Teaching children Korean, Math, English almost 1year as a volunteer in Korea
-Teaching Korean to multinational people while I was in abroad
-Verbling since 2020 ~



🏳️‍🌈 I'm the person who is

passionate, efficient, open-minded, and warm 💓



🏳️‍🌈 About the lesson Specifically,

Lessons are divided by [ Beginner, Intermediate, Advanced ]

--For beginners (A0-A2), for those who really do not speak Korean,
Classes start from basic pronunciation correction.
( and it doesn't take much time to go intermediate. But we need to memorize lots of vocas for input )

--Intermediate level is B1-B2 level, and for those who can speak to a certain degree or can hear even if they are a little uncomfortable,
Classes are mainly conducted on conversation(speaking) and sentence correction(writing) with homework and vocas.

--Advanced level is B2-C~, and it is mainly conducted in in-depth classes such as discussing topics and writing-correcting long sentences for those who can speak Korean freely. topics(with reading news) are ready, but if you want to discuss with specific topic, of course we can discuss about it !




❤️ see you soon ❤️

Devamını Oku
Deneme Dersi
Tek Seferlik, 30 dakika
Öğretmen İstatistikleri
Birkaç saatte
3 yıl önce
100.00%
1.525
17.2 ders ortalaması
5.0
Öğretme Başarısı
Yeni Başlayan
Üst Başlangıç seviyesi
Orta düzey
Üst Orta seviye
İleri düzey
Üst İleri seviye
Özgeçmiş

Çalışma Deneyimi
Korean Tutor - Verbling
Verbling - San Francisco, California, United States
teaching Korean here ( 2020 ~ present )
Language Tutor - children
DM children's education facility - Seoul, South Korea
teached korean and english to children ( 11 months as a volunteer )
Korean Tutor ( basic - intermediate )
IBO-Gwacheon - Gwacheon, South Korea
- teached korean to the foreigners ( 6months )

Sertifikalar
DELF B2
REPUBLIQUE FRANCAISE FRANCE EDLTCATION INTERNATIONAL - france
Korean language education certificate
Korea Research Institute for Vocational Education and Training - Gangnam, Seoul, Korea
It is an expert who can teach Korean to foreigners with basic knowledge of Korean and general language by presenting a general understanding and systematic teaching method of Korean to foreigners who will teach Korean as a second language.
Diğer öğretmenlere göz atın:
Deneme Dersi
Tek Seferlik, 30 dakika