Gelmiş geçmiş en büyük indirim! Ders paketleri %15 indirimli.
Kalan Süre:

03:15:50:26

(Kalan Kupon: 44)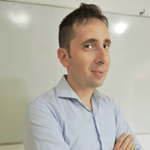 Christian
İtalya
•
5:04 AM (GMT-03:00)
Konuşur
Ana Dil
,
C2
,
C1
,
B1
,
A1
Hakkımda
Hi, my name is Christian and I am a native Italian teacher. I have developed a particular penchant for teaching as early as 2000. Immediatly after obtaining my teaching diploma and during my university studies, I had the opportunity of teaching Italian and litterature at primary school. After my master's degree, I started in several high school.
In 2013 I had the opportunity to start a new teaching experience in Australia where I taught Italian in Melbourne.
I am currently living in Argentina where I have ben working, for four years now, in an important Italian Institute, teaching Italian and preparing students for the PLIDA exam.
It is my goal to combine my range of experience with my ability to be an innovative, passionate and enthusiastic teacher.
Devamını Oku
Deneme Dersi
Tek Seferlik, 30 dakika
Öğretmen İstatistikleri
Birkaç saatte
5 yıl önce
100.00%
741
35.3 ders ortalaması
5.0
Özgeçmiş

Eğitim
Laurea Magistrale in Giuriprudenza
Universitá degli Studi di Trento - Trento
Tesi in Storia del Diritto Romano
Laurea Scienze Giuridiche
Universitá degli Studi di Trento - Trento
Diploma Magitrale
Liceo Antonio Rosmini - Trento, Italia
Focus sui principi pedagocici e sull'insegnamento

Çalışma Deneyimi
Insegnante di Italiano per studenti stranieri
Dante Alighieri El Palomar – Caseros, Buenos Aires - Buenos Aires (Argentina)
Insegnante di Italiano per adulti argentini presso la sede Dante Alighieri El Palomar – Caseros, Buenos Aires
Insegnante di Italiano per studenti stranieri
Kew Neighbourhood Learning Center - Melbourne (Australia)
Insegnante di Italiano per studenti australiani in un istituto privato australiano (Kew Neighbourhood Learning Center)
Insegnante di Italiano e Diritto
Univeritá Popolare Trentina - Trento
Insegnante titolare di Italiano e Diritto in un istituto professionale (U.P.T.)
Insegnante supplente di Italiano
Scuola Elementare - Istituto Comprensorio Trentino - Trento (Italia)
Insegnante supplente di Italiano nelle classi elementari
Esaminatore del Plida (Progetto Lingua Italiana Dante Alighieri)
Instituto Bilingue Dante Alighieri - Villa Carlos Paz
Esaminatore delle prove orali dei diversi livelli della certificazione PLIDA
Insegnante di Italiano per studenti stranieri
Instituto Bilingue Dante Alighieri - Villa Carlos Paz (Argentina)
Insegnante di Italiano in un istituto bilingue secondario (Instituto Bilingue Dante Alighieri di Villa Carlos Paz)

Sertifikalar
Insegnare Italiano come lingua straniera: principi, metodi e tecniche
EDULINGUA Laboratorio di lingua e cultura italiana - corso di aggiornamento on line
Focus su glottodidattica, uso delle nuove tecnologie per la classe di italiano, didattizzazione e analisi di materiali per la classe
Diğer öğretmenlere göz atın:
Deneme Dersi
Tek Seferlik, 30 dakika