Angélica yeni öğrenci kabul etmiyor.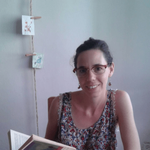 Angélica Montoya
Meksika
•
2:31 PM (GMT-06:00)
Hakkımda
Hello, my name is Angelica, I live in Merida Yucatan in southern Mexico, where it is always hot. My native language is Spanish, but I speak also French because I lived in France and in Quebec, Canada, and a little of english. My passions are literature and languages. I am currently studying Latin American literature. I also studied Language Teaching of French and Spanish at the University of Guadalajara, Jalisco and I was an exchange student in Quebec Canada for a year. In total I have 5 years of experience for language classes, French and Spanish for children and adults.
I know linguistics, phonetics, literature and everything that is needed to understand and teach a language and my culture. As a teacher and student of a language, I know the difficulties of learning a new language, but also the ways of teaching it despite these. With me, you can practice the Spanish language in the way you like and focus on the aspects you want to improve. We can have a class, learn new vocabulary, improve grammar, writing, practice pronunciation or if you just want to talk to improve your fluency, we can share a virtual café while we talk about any topic of your interest.
Devamını Oku
Öğretmen İstatistikleri
Aynı gün
6 yıl önce
100.00%
370
30.8 ders ortalaması
5.0
Öğretme Başarısı
Yeni Başlayan
Üst Başlangıç seviyesi
Orta düzey
Üst Orta seviye
İleri düzey
Üst İleri seviye
Özgeçmiş

Eğitim
Enseñanza del francés como lengua extranjera,
Universidad de Guadalajara - Jalisco, México
Particularidades de la lengua francesa y cómo enseñarla
Certificado Didáctica del francés y español como lengua extranjera
Universidad Autónoma de Aguascalientes - Aguascalientes, México
Enseñanza de ambas lenguas.

Çalışma Deneyimi
Docente de español
As capacitaciones - Jalisco, México
Docente de español, habilidades lectoras y literatura latinoamericana
Docente de Francés
Kiosk, language centre - Jalisco, México
Docente de francés adolesentes y adultos

Sertifikalar
Enseignement du français langue seconde
Université Laval - Québec, Canada
Particularidades de la lengua francesa y cómo enseñarla
Diğer öğretmenlere göz atın: