Gelmiş geçmiş en büyük indirim! Ders paketleri %15 indirimli.
Kalan Süre:

01:10:22:45

(Kalan Kupon: 22)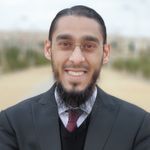 Abdelrahman Abdelrazek
Mısır
•
3:32 PM (GMT+02:00)
Hakkımda
As-Salamu Alaykum,
My name is Abdelrahman, Native Arabic speaker and experienced Arabic and Islamic studies teacher.

Certificates:
-Bachelor's degree in Clinical Pharmacy-Faculty of Pharmacy-Mansoura University-Egypt.
-Bachelor's degree in Arabic and Islamic Studies-Faculty of Dar Al-Uloom-Fayoum University.
-Professional Diploma in Preparing Arabic Language Teachers for Non-Natives-Cairo University.
-The Career Certificate in Teaching Arabic as a Foreign Language-School of Continuing Education-The American University in Cairo.
-Preparation of teachers of Arabic for Non-speakers course-Adult Education Center of Ain Shams University-Egypt.
-Quran Sanad In A'asem Ibn Abi Al-Najud Qira'a.

I've been passionate about teaching Modern Standard Arabic and all of its sciences, such as "nahw," "sarf," and "blagha" for very long time.

I teach different Islamic sciences like Fiqh, Hadeeth, Tafseer, Aqeeda, and Seerah.

I can also explain and teach any Tajweed book or (matn) such as Tohfatul Al-Atfal and Al-mokadema Al-jazareyya.

I have many different curriculums in all sciences that I teach depending on the student's level and target.

So, whether you are a beginner or an advanced learner, you will find learning with me to be both easy and rewarding.

I enjoy the rewards of helping students to become more confident in speaking Arabic and reciting the Quran.

I use different ways to teach you, like iPad with apple pencil to write and annotate on the whiteboard or on the pdf or PowerPoint we use during the lesson.
Also, I use videos and apps.
Devamını Oku
Deneme Dersi
Tek Seferlik, 30 dakika
Öğretmen İstatistikleri
Bir saatte
5 yıl önce
100.00%
10
5.0 ders ortalaması
Yeni Öğretmen
Özgeçmiş

Eğitim
Bachelor's degree in Arabic and Islamic Studies
Faculty of Dar Al-Uloom - Fayoum University - Fayoum City - Egypt
Focus in Arabic language sceinces (Nahw, Sarf, Balagha), Islamic sciences, History, Literature, Rhetoric & Criticism, and Philosophy
Professional Diploma in Preparing Arabic Language Teachers for Non-Arabic Speaker
The Blended Learning Center Of Cairo University - Cairo, Egypt
Professional Diploma in Preparing Arabic Language Teachers for Non-Arabic Speakers From The Blended Learning Center Of Cairo University
Bachelor's degree in Clinical Pharmacy
Faculty of Pharmacy - Mansoura University - Mansoura, Egypt

Sertifikalar
Preparation of Teachers of Arabic for Non Speakers Course
Adult Education Center of Ain Shams University - Egypt
The Career Certificate in Teaching Arabic as a Foreign Language (CCTAFEL)
School of Continuing Education at The American University in Cairo - Egypt
Quran Sanad
Mansoura, Egypt
Continuous Chain linked to Prophet Muhammad (PBUH) in A'asim ibn Abi Al-Najud Qira'a
Diğer öğretmenlere göz atın:
Deneme Dersi
Tek Seferlik, 30 dakika