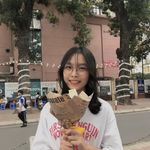 Thi Hue Dung Nguyen
Vietnam
•
7:59 AM (GMT+07:00)
Konuşur
Ana Dil
,
Ana Dil
,
C1
,
A1
Hakkımda
Wanna come to Vietnam to work, to travel or to find a beautiful partner to date with? Wanna learn Vietnamese to be a polyglot? Or wanna become a total native speaker? You have come to the right place!

Chào các bạn chào các bạn chào các bạn! My name is Alice, I was born in North Vietnam, and I'm currently living in Hanoi - the capital of Vietnam (Well, I guess all of you know it). I'm a Vietnamese native speaker with the North accent - the most common accent that Vietnamese people use and fully understand. I have been teaching English for 2 years, having been a translator for almost 1 year, and as a previous member of an international organization in Vietnam for youngsters, I used to teach Vietnamese free for my foreign friends. I'm doing a Bachelor of Education so don't worry about my teaching skills as well as my passion for educating others. Moreover, don't worry about boredom because you cannot find it when studying with a cute teacher like me!

A little bit about my tutoring approach: teaching the most understandable and daily life-related Vietnamese for the beginners in the most interesting way. With the advanced learners, I will help you improve your Vietnamese phraseology as well as providing some tips to speak Vietnamese as a native, especially some slang Vietnamese people often use. My teaching methods will base on reality, so you will have chances to watch videos and study the curricula that I prepared, along with doing the homework that I give you guys. You can also discuss with me your hobbies, your goals, etc to raise your Vietnamese level. I will use all of my best to assist you in having the most wonderful experiences when learning Vietnamese with me!

From Alice Nguyen with love!

Devamını Oku
Deneme Dersi
Tek Seferlik, 30 dakika
Öğretmen İstatistikleri
Aynı gün
2 yıl önce
75.00%
81
9.0 ders ortalaması
5.0
Öğretme Başarısı
Yeni Başlayan
Üst Başlangıç seviyesi
Orta düzey
Üst Orta seviye
İleri düzey
Üst İleri seviye
Özgeçmiş

Eğitim
B.A Teaching Education
Vietnam Nation University - Vietnam
Focus on Teaching English and Vietnamese for children/adults.

Çalışma Deneyimi
ToMo - Ybox
Hanoi - Vietnam
A Vietnamese - English translator and vice versa
ESO
Doğrulanmış
Online - Vietnam

Sertifikalar
IELTS
Doğrulanmış
IDP - Vietnam
Diğer öğretmenlere göz atın:
Deneme Dersi
Tek Seferlik, 30 dakika