Amy geçici olarak mevcut değil.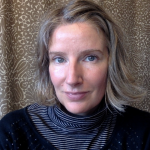 Amy Jordan
Amerika Birleşik Devletleri
•
12:04 PM (GMT-08:00)
Deneme Dersi
Tek Seferlik, 30 dakika
Öğretmen İstatistikleri
Çok kısa sürede
3 yıl önce
100.00%
8
5.0 ders ortalaması
5.0
Öğretme Başarısı
Yeni Başlayan
Üst Başlangıç seviyesi
Orta düzey
Üst Orta seviye
İleri düzey
Üst İleri seviye
Özgeçmiş

Eğitim
B.A. Linguistics
The Evergreen State College - Olympia, WA USA
Studied the evolution and sociology of spoken communication and its manifestations in languages around the world.

Çalışma Deneyimi
Private English Tutor
Portela Family - Arcoverde, Pernambuco, Brazil
Enhanced the English study and output of 11 year old student. Conducted oral/aural, written and listening quizzes based on primary school curriculum. Assessed student output to gauge when additional help was required
Substitute English Teacher
English Language Institute - San Francisco, CA USA
Facilitated lessons on and monitored adult students of various nationalities in the use of English language fluency. Oversaw practice tests for students to prepare for TOEFL exam. Followed primary teachers' lesson plans, supplementing as needed.
English Teacher/Camp Counselor
Britannia School of English - Barcelona, Catalunya, SPAIN
Developed curriculum for and conducted classes with students aged 7-16 during intensive English summer camp in Espot, Spain. Facilitated fluency exercises (with and emphasis on speaking and listening) in the form of group work and games. Monitored student output for communicative efficacy. Maintained basic portfolios of craft work of younger students. Assisted resort staff in overseeing outdoor adventure activities such as hiking and swimming.
Private English Tutor
Tetilla and Guisti Families - Mendoza, ARGENTINA
Met with and developed reading writing and listening skills for school aged children, aged 9 to 17 of 2 different families. Assessed progress of students to ensure success of language programs. Prepared students for exams and oral presentations in their English classes.

Sertifikalar
TESOL Certification
Seattle Pacific University - Seattle, WA USA
Masters level coursework in the pedagogy of teaching English to speakers of other languages.
Diğer öğretmenlere göz atın:
Deneme Dersi
Tek Seferlik, 30 dakika