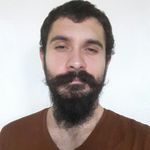 Daniel Cioban
Almanya
•
11:30 PM (GMT+02:00)
Konuşur
Ana Dil
,
Ana Dil
,
C1
,
B2
,
B1
,
A2
,
A2
,
A1
Hakkımda
- Native Speaker
- 4 years experience
- Taught over 500 students
- Worked across 4 countries

"Language is not a genetic gift, it is a social gift."

Hello!

My name is Daniel. I am a language teacher, and language lover (I speak 6). In the past 4 years, I have worked with students from levels A1 to C1. No matter what your reason to learn Romanian is (personal or professional) I promise you that the amount of time you spend with me will help you improve fast, and ultimately reach language proficiency!

Experts believe that conversation practice enables language learners to assimilate their acquired knowledge, integrating a variety of cognitive skills at once to produce oral communication. In effect, this is learning by doing.

It is because of this that I use a very strong communication approach style mixed with input through content, with the purpose of immitating the way a foreigner would learn the language in the target country!

In the classroom, I prefer to use a communicate approach to teaching, one that strives to emulate real life situations a 2nd language speaker would be confronted with: anything from normal conversations with a friend or acquaintance to dealing with clerks inside the bank, or communicating with a doctor inside a doctor's office.
Devamını Oku
Deneme Dersi
Tek Seferlik, 30 dakika
Öğretmen İstatistikleri
Birkaç saatte
3 yıl önce
100.00%
249
20.4 ders ortalaması
5.0
Öğretme Başarısı
Yeni Başlayan
Üst Başlangıç seviyesi
Orta düzey
Üst Orta seviye
İleri düzey
Üst İleri seviye
Özgeçmiş

Eğitim
Journalism & Communication degree
Aurel Vlaicu University of Arad - Arad, Romania
Communication with a focus on text based Journalism

Çalışma Deneyimi
English & Romanian Language Trainer
Berlitz Corporation - Magdeburg, Germany
English & Romanian Language Training with groups and individuals.
English & Romanian Language Trainer
London Club - Bursa, Turkey
English & Romanian Language Training with groups and individuals.
English Language Trainer & Supervisor
Doğrulanmış
"Preparandia Dimitrie Tichindeal" National College - Arad, Romania
English Teaching & Supervising of Students
Diğer öğretmenlere göz atın:
Deneme Dersi
Tek Seferlik, 30 dakika