%10 indirimle hedefine her gün biraz daha yaklaş.
Kalan Süre:

05:07:02:44

(Kalan Kupon: 77)
Bu öğretmen şu anda öğrenci kabul etmiyor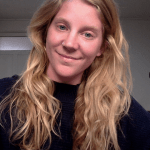 Emily Ladd
Amerika Birleşik Devletleri
•
10:57 AM (GMT-06:00)
Öğretmen İstatistikleri
Birkaç saatte
3 yıl önce
100.00%
55
7.3 ders ortalaması
5.0
Öğretme Başarısı
Yeni Başlayan
Üst Başlangıç seviyesi
Orta düzey
Üst Orta seviye
İleri düzey
Üst İleri seviye
Özgeçmiş

Eğitim
Currently completing my Bachelors degree - 3 years completed
University of Colorado, Boulder - Boulder, Colorado, U.S.A.
Majoring in Psychology, Minoring in English Literature

Çalışma Deneyimi
English Teacher
Extreme Learning Center - Arequipa, Peru
I teach a children's class and teen/adult classes. Skill levels range from beginner to Advanced
English Teacher - Volunteer
Ritmo Del Rio - San Raphael, Colombia
Volunteered teaching adolescents English
English Teacher - Volunteer
Ptea Teuk Dong (NGO) - Battambang, Cambodia)
Volunteered teaching children English

Sertifikalar
TESOL Certification
La Salle University - Arequipa, Peru
Examined and researched differences between TEFL and TESL environments.
TEFL
Via Lingua - Arequipa, Peru
Learned grammar and pedagogy in a theoretical context.
Diğer öğretmenlere göz atın: