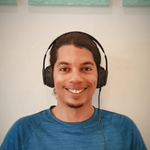 Gil
İsviçre
•
5:58 AM (GMT+07:00)
Konuşur
Ana Dil
,
Ana Dil
,
C1
,
B1
,
A2
Hakkımda
Hello everyone!

I'm Gil, 37 years old and I come from Geneva, a beautiful city in the French-speaking part of Switzerland. I've been teaching French here on Verbling since 2016 and travelling around the world since 2014 !

I am constantly immersed in different languages ​​and cultures, I always have to adapt and find ways to communicate effectively. The ability to put myself in my student's shoes allows me to anticipate their difficulties and find ways to help them.

My teaching techniques involve either a structured or a flexible approach depending on your particular needs and goals.

The best reward I get from my work is the satisfaction of helping others improve their quality of life either by finding a better job, passing the exams to apply for a residence permit, getting the courage to start a new life in a different country or simply feeling confident when speaking with family and friends.

I would be very happy to meet you and help you in your French journey wherever it may lead us !

I hope you will read some of my student's reviews !

Send me a message if you have any questions and maybe book a trial lesson !

"Tell me and I forget, teach me and I may remember, involve me and I learn."

Really hope to hear from you,

Gil
Devamını Oku
Deneme Dersi
Tek Seferlik, 30 dakika
Öğretmen İstatistikleri
Birkaç saatte
7 years ago
97.00%
3.061
20.4 ders ortalaması
5.0
Öğretme Başarısı
Yeni Başlayan
Üst Başlangıç seviyesi
Orta düzey
Üst Orta seviye
İleri düzey
Üst İleri seviye
Özgeçmiş

Eğitim
University of Geneva
Faculté de Psychologie et Sciences de l'Education - Geneva

Çalışma Deneyimi
French teacher
Verbling.com - Online
Tailored French lessons for students of all levels.
French teacher
Cours privés de français - Geneva
Teaching French as a second language to adult beginners. Basic and specific conversation, grammar, pronunciation.
Substitute teacher
Service des remplacements de l'enseignement primaire - Geneva
Maintaining good classroom atmosphere, organization and discipline whilst following the class teacher's lesson plans.
Private tutor
Association des répétitoires AJETA - Geneva
One-to-one lessons for students between 8 and 18 years old.
Diğer öğretmenlere göz atın:
Deneme Dersi
Tek Seferlik, 30 dakika