Gelmiş geçmiş en büyük indirim! Ders paketleri %15 indirimli.
Kalan Süre:

01:10:48:50

(Kalan Kupon: 22)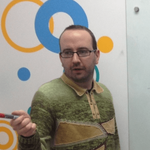 Gordon Gaffney
İzlanda
•
1:06 PM (GMT+00:00)
Hakkımda
***SEPTEMBER 18TH 2023 - UPDATED SCHEDULE ***

Hi, I'm Gordon and I have 44 years. No, wait, I don't have 44 years. I am 44 years old.

I have taught over 3000 hours of English classes to people that speak Portuguese, so I understand all your mistakes and why you make them. I can show you tips and strategies to help correct them quickly, easily and permanently.

I have also taught lots of students from Spain, Uruguay, France, Turkey, Poland, Russia, Italy and many others.

I teach whatever my students would like to learn but usually we focus on conversation.

You speak about whatever you are interested in, topics such as family, hobbies, sport, movies, the news, gossip, or even Business English situations, specific situations at work, Technical English. I take notes and then we spend the last 15/20 minutes correcting mistakes and doing any important grammar that comes from the conversation.

I no longer prepare students for exams such as IELTS or TOEFL but instead I am focusing more on job interview preparation. I have helped many students secure their dream job which is incredibly rewarding to me.

I can teach students from anywhere in the world but I am particularly suited to people that speak Portuguese and Spanish. I taught English in Uruguay for 7 months and in Brazil for 3.5 years.

So arrange your free 30-minute class and I hope that I can be the best English teacher you have ever had.

Devamını Oku
Deneme derslerim
In the trial class you will do lots of speaking. You can talk about your English studies, work/study, family, hobbies, travel, the news etc. I will take notes and then we can look at your mistakes. If you have any questions then just ask!
Devamını Oku
Deneme Dersi
Tek Seferlik, 30 dakika
Öğretmen İstatistikleri
Birkaç saatte
6 yıl önce
100.00%
647
17.9 ders ortalaması
5.0
Öğretme Başarısı
Üst Başlangıç seviyesi
Orta düzey
Üst Orta seviye
İleri düzey
Üst İleri seviye
Özgeçmiş

Çalışma Deneyimi
English teaching
Sligo, Ireland
English Teaching
Private - Belo Horizonte, Brazil

Sertifikalar
CELTA, Certificate in English Language Teaching to Adults
Cambridge University - Cambridge, England
BA Mod. Computer Science
Trinity College Dublin - Dublin, Ireland
Diğer öğretmenlere göz atın:
Deneme Dersi
Tek Seferlik, 30 dakika