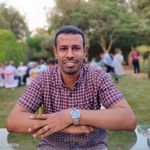 Ibrahim Salman
Mısır
•
8:30 AM (GMT+02:00)
Hakkımda
Hello. I am an Egyptian certified Arabic teacher to non-native speakers.I have been teaching Arabic since 2014. I am new to Verbling but I am a member teacher on Itaki and Preply and taught hundreds of classes there. I am here to help you learn Arabic. As a teacher I know the challenges which a new language learner faces. My degree in Education has benefited me to help the students develop language skills: listening, speaking, reading and writing. I am a highly motivated and experienced tutor with a strong background in providing professional tutoring services to students with diverse backgrounds. My teaching style incorporates friendly and relaxed classes which encourage students to speak freely . I use a special platform for online teaching where you will be able to see, listen and read from my screen and you will be able to write your answers on my screen in an interactive way. I work with beginners all the way to proficiency level. During the past two years I developed excellent knowledge of providing customized tutoring services to students. I teach using the books:
* At-Takallum Arabic Teaching Set.
*Arabic is at your hands.
*Madina books
*Mastering Arabic.
*kallimni Arabi(colloquial Egyptian)
I am seeking to enhance your understanding and comprehensive use of the Arabic language while engaging in friendly and relaxed classes . I'd be happy to meet you and create a plan that is based on your Arabic learning goals. If you have any questions, you can send me a message. I'd love to help you.
Devamını Oku
Deneme Dersi
Tek Seferlik, 30 dakika
Öğretmen İstatistikleri
Birkaç saatte
5 years ago
100.00%
748
35.3 ders ortalaması
5.0
Öğretme Başarısı
Yeni Başlayan
Üst Başlangıç seviyesi
Orta düzey
Üst Orta seviye
İleri düzey
Üst İleri seviye
Modern Standard Arabic (al-fusha)
Özgeçmiş

Eğitim
B.A. of Education
Aswan - Aswan
Teaching English methodology.

Çalışma Deneyimi
Online Arabic teacher to non native speakers.
Preply - Online.
Online Arabic teacher to non native speakers.
Italki - Online.
Online Arabic teacher to non native speakers.
Tutorhunt - Online.

Sertifikalar
Teaching Arabic to non native speakers.
Rawaq.com - Online.
Teaching Arabic methodology.
Diğer öğretmenlere göz atın:
Deneme Dersi
Tek Seferlik, 30 dakika