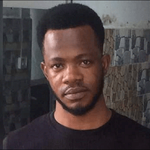 John Emelue
Nijerya
•
9:10 PM (GMT+01:00)
Hakkımda
Hello everyone!

My name is John, and I am a professional English language tutor. Truth is, I never imagined that I would get an opportunity such as this, and in fact, it's an honor to have this platform to reach out to English language learners in the world at large. The way I see it, teaching is a way of life. It is an adventure that I will always delight in, to say the least.

Sincerely speaking, I completely understand how challenging the English language can be sometimes, that is why my lessons are uniquely conducted to meet the needs of each student.


To start with, I have a TEFL certificate and a Bachelor's degree in Computer Science. Besides, I will be completing another bachelor's degree in Business administration by the end of this year.

I have been teaching the English language for the past three years (Online & Classroom). During this time, I have taught students from all walks of life, ranging from beginners, advanced students and business communication students as well, which is due to the vast experience I have in Business Administration. In other words, I have taught children, teenagers, and adults who got high scores in their respective professional exams.


When I begin a lesson, I spend time making sure that I understand your strengths and weaknesses. As a result, I go the extra mile towards enhancing your strengths and also, helping you improve on your weaknesses.

I also create study plans for my students, which incorporate their learning goals and interests. One of the exciting aspects of my teaching is the connection that I share with my students. Teaching is my passion, and I believe that when it is fun for me, it is fun for my students as well.
Devamını Oku
Deneme Dersi
Tek Seferlik, 30 dakika
Öğretmen İstatistikleri
Aynı gün
5 yıl önce
99.00%
620
8.4 ders ortalaması
4.9
Özgeçmiş

Eğitim
Bachelor's Degree
Doğrulanmış
University of the People - California, USA

Çalışma Deneyimi
Business English Teacher
Bizmates - Philippines
Pro English Language Teacher
Ziktalk - South Korea
Admissions Advisor
University of the People - United States of America

Sertifikalar
TEFL Certificate of Completion
Doğrulanmış
TEFL Professional Development Institute - Windchester, Hampshire England, SO23 0LD
Diğer öğretmenlere göz atın:
Deneme Dersi
Tek Seferlik, 30 dakika