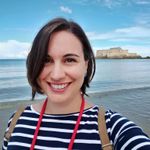 Lydie Marreiros - Portuguese Language and Culture
Portekiz
•
1:36 AM (GMT+00:00)
Konuşur
Ana Dil
,
C1
,
B2
,
A1
,
Hakkımda
Olá! 😊
I'm Lydie, residing in Setúbal, a picturesque coastal city of Portugal. My passion lies in the art of language acquisition. In addition to my mother tongue, Portuguese, I am fluent in English, Romanian, and possess a smattering of French. Consequently, I'm well-acquainted with the challenges one encounters when venturing into the realm of a new language, and I'm here to lend a hand with those obstacles.

I began my language teaching journey in 2016 and had the privilege of teaching Portuguese as a Foreign Language at Universidade Nova de Lisboa, where I earned a postgraduate degree in Teaching Portuguese as a Non-native Language. I hold TEFL and TEYL certificates, and I've honed my skills in teaching grammar and conversation to learners from age 4 to adults. I find joy in working with people from diverse backgrounds, believing in the mutual enrichment of sharing knowledge and experiences.

I adopt a laid-back teaching style, favoring the communicative approach, as I believe that language is best learned through interaction and contextual vocabulary usage. My lessons encompass grammar, conversation, and pronunciation improvement, all tailored to your unique requirements and objectives.

I'm looking forward to our first session! 😊
Devamını Oku
Deneme derslerim
In this trial lesson, you have the chance to familiarize yourself with my teaching approach and the materials I employ. You can also share your goals, enabling me to provide more tailored assistance. After all, every great journey starts with that very first step! 😊
Devamını Oku
Deneme Dersi
Tek Seferlik, 30 dakika
Öğretmen İstatistikleri
Aynı gün
6 yıl önce
100.00%
1.813
14.0 ders ortalaması
5.0
Öğretme Başarısı
Yeni Başlayan
Üst Başlangıç seviyesi
Orta düzey
Üst Orta seviye
İleri düzey
Üst İleri seviye
Özgeçmiş

Eğitim
Master's - Studies on Portuguese Language
Universidade Aberta - Lisboa, Portugal
This master's degree endows qualifications in the areas of teaching and research in the area of Portuguese Linguistics and Literature.
Postgraduate degree on Teaching Portuguese as a Non-native Language
Universidade Nova de Lisboa - Lisboa, Portugal
Licenciatura em Psicologia Social e Organizacional
ISCTE - Instituto Superior de Ciências do Trabalho e da Empresa - Lisboa, Portugal

Çalışma Deneyimi
Portuguese Teacher
Universidade Nova de Lisboa - Lisboa, Portugal
Portuguese Teacher
Portuguese Connection - Lisbon
Online Portuguese Teacher

Sertifikalar
TEYL Specialist Course
Global Language Training
TEFL/TESOL Master Course
LearnTEfl
Diğer öğretmenlere göz atın:
Deneme Dersi
Tek Seferlik, 30 dakika