Gelmiş geçmiş en büyük indirim! Ders paketleri %15 indirimli.
Kalan Süre:

01:11:28:11

(Kalan Kupon: 22)
Marta yeni öğrenci kabul etmiyor.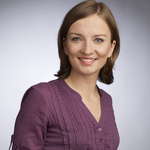 Marta Mońko
Polonya
•
1:26 PM (GMT+01:00)
Konuşur
Ana Dil
,
C1
,
B1
,
A2
Hakkımda
My name is Marta. I'm a certified teacher of Polish for foreigners. I have a master's degree from the University of Warsaw in Polish philology (check my CV below, my diploma was verified by Verbling crew). So far I have been been working as a journalist and editor in polish newspapers. During my parental leave I had started teaching online to have more contact with adults and I discovered that this is my passion :-) I love sharing my knowledge about language and show polish culture! If you enjoy well prepared, interesting and essential lessons, come and learn with me! I hate being bored in class as a student and will do everything not to be bored as a teacher. But attention! Be prepared for a lot of polish culture and recipes (those are my two favorite subjects when I write articles and I think it's also a great base for learning language). And I warn you, that I am going to give you homework (a lot, if you only want to).

Things you need to know:
- We will speak polish only during our lessons.
- I work with books "Polski krok po kroku" and e-polish.eu platform. You will get all the material from me including a lot of online tests.
- I use also real polish materials: articles, songs, books, memes, games.
- We will play real polish games - I have huge collection for my kids and my students.
- You will get access to my Facebook group where I share extra materials.
- I will invite you to online games and share advices which apps it's good to use to learn and practice polish.
- I take maximally 5 students for a school year. I enjoy teaching as an extra job as it helps me to keep my passion for it and having fun during our lessons.
- I know I have higher rates than other teachers but try me - I will convince you I'm worth it. You will get extra materials of very high value!
- If you start from level 0 you will be able to speak basic polish in next 6 months :-)
Devamını Oku
Öğretmen İstatistikleri
Birkaç saatte
7 yıl önce
94.00%
553
42.0 ders ortalaması
5.0
Öğretme Başarısı
Yeni Başlayan
Üst Başlangıç seviyesi
Orta düzey
Üst Orta seviye
İleri düzey
Üst İleri seviye
Özgeçmiş

Eğitim
Master's Degree in Polish Philology
Doğrulanmış
University of Warsaw - Warsaw, Poland
Polish language & literature studies with two-year specialization in teaching polish for foreigners and two-year specialization in teaching polish in schools.

Çalışma Deneyimi
Polish teacher online
Vebling, Italki
Journalist & Editor
Axel Springer, Polskapresse, Marquard Media, Bauer - Warsaw, Poland
Text writer and editor of the biggest polish newspapers and magazines.
Diğer öğretmenlere göz atın: