Michelle yeni öğrenci kabul etmiyor.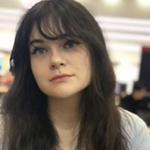 Michelle Gleich
Amerika Birleşik Devletleri
•
7:33 PM (GMT-08:00)
Hakkımda
My schedule updates:

November 10-14, I will be visiting family.

I will also be with family from November 19-27, as that is our Thanksgiving holiday season. The week of the 19th, I will have time to teach, but it will be dependent on my boyfriend and family's schedules. I will update my schedule once I know theirs.

In December, I am also moving. I will still be able to teach, but my schedule may change. I am teaching university classes in Spring, so in December I will begin preparing my syllabi, assignments, etc. for my university classes. I am planning to continue teaching on Verbling in December and during the semester, but my hours will be dependent on how many classes I am assigned. (I will update the schedule weekly in January and beyond.) Let me know if you have any questions!

Hello! My name is Michelle, and I am from the USA. It's so great to meet you!

In university, my major was English education; I recently earned my Master's in TESOL. I have also been teaching English for over six years. During this time, I taught all kinds of English! This includes business English, conversational English, travel English, TOEIC, TOEFL...everything. Whatever English needs you have, I have experience teaching.

Outside of teaching, I love reading, art, travel, music, drinking coffee, and spending time with my cat. I really enjoy trying new coffee shops and visiting art museums with my friends.

As a teacher, I believe in personal and productive English learning. This means that, first, my teaching style focuses on your needs. When we first meet, we will discuss your needs and goals. This way, I can focus our lessons on your needs and improving your skills.

My lessons also focus on being productive--practicing! I believe that, unless we actually practice what we learn, our skills will not increase as much as we'd like. When I teach, I always ask students to think about the grammar and vocabulary, explain it, and make sentences. I also believe that, when we practice, if we make mistakes, it is okay! Mistakes are part of how we learn.

Lastly, I want to say that in my classes, it is ALWAYS okay to ask questions. If you don't understand me, or have a sudden question, please don't feel free to ask. Let's work together to set English goals and improve your English skills!
Devamını Oku
Deneme derslerim
Before class, I will message you about your goals. I will plan a mini-lesson based on your goals. (For example, if you want to learn business presentations, we'll talk about how to introduce a presentation. If you want to read articles, we'll read and discuss short article.) In our lesson, we will do brief introductions followed by the mini-lesson planned.
Devamını Oku
Deneme Dersi
Tek Seferlik, 30 dakika
Öğretmen İstatistikleri
Birkaç saatte
3 yıl önce
99.00%
295
26.7 ders ortalaması
5.0
Öğretme Başarısı
Yeni Başlayan
Üst Başlangıç seviyesi
Orta düzey
Üst Orta seviye
İleri düzey
Üst İleri seviye
Özgeçmiş

Eğitim
M. S Arts
Hankuk University of Foreign Studies - Seoul, South Korea
M.S. Education - TESOL
Temple University - Philadelphia, PA, USA
B.S. Education
University of Missouri St. Louis - St. Louis, MO, USA
Bachelor's in Secondary English Education

Çalışma Deneyimi
Adult English Teacher
Language Cube - Seoul, South Korea
English teacher of one-on-one classes; focused on business, conversational, and other English topics.
English Teacher
Fuxin Experimental Middle School - Fuxin, China
High school English teacher; focused on conversational and productive classes.
Adult English Teacher
Brand New English Academy - Ulsan, South Korea
English teacher of group classes; focused on TOEFL and conversational English.
Diğer öğretmenlere göz atın:
Deneme Dersi
Tek Seferlik, 30 dakika