Gelmiş geçmiş en büyük indirim! Ders paketleri %15 indirimli.
Kalan Süre:

03:14:51:28

(Kalan Kupon: 44)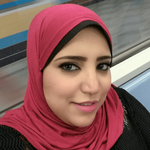 Nesreen Meligy
Mısır
•
11:03 AM (GMT+02:00)
Hakkımda
I am Nesreen Meligy, I am thirty years old. Graduated from the Faculty of Dar Al Uloom, Cairo University. I have passed many training courses in different fields, I got a general and special diploma in preparing Arabic teacher for non-native speakers, and now in master's degree. I have been teaching Arabic to non-native speakers since 2013. I teach students from all over the world to adults and children, and use many books in teaching such as (Al asasi book, Arabeye bayna yadayk, Attakalum book, Al Fanar book and more) . I have trained a group of teachers in the field of teaching Arabic to non-native speakers, and I am now involved in the preparation of educational curricula.
Devamını Oku
Deneme Dersi
Tek Seferlik, 30 dakika
Öğretmen İstatistikleri
Birkaç saatte
5 yıl önce
87.00%
36
34.0 ders ortalaması
4.8
Özgeçmiş

Eğitim
جامعة القاهرة
كلية الدراسات العليا للتربية - جامعة القاهرة
تمهيدي ماجيستير - سم المناهج وطرائق التدريس - إعداد معلم لغة عربية للناطقين بغيرها
جامعة القاهرة
كلية الدراسات العليا للتربية - جامعة القاهرة
دبلوم خاص في التربية شعبة إعداد معلم لغة عربية للناطقين بغيرها
جامعة القاهرة
كلية الدراسات العليا للتربية - جامعة القاهرة
دبلوم عام في التربية شعبة إعداد معلم لغة عربية للناطقين بغيرها
جامعة القاهرة
كلية دار العلوم - جامعة القاهرة
ليسانس لغة عربية ودراسات إسلامية

Çalışma Deneyimi
مركز نور الهدى لتعليم اللغة العربية للناطقين بغيرها
مركز نور الهدى لتعليم اللغة العربية للناطقين بغيرها - أون لاين
مركز لغة القرآن لتعليم اللغة العربية للناطقين بغيرها أون لاين
مركز لغة القرآن لتعليم اللغة العربية للناطقين بغيرها أون لاين - أون لاين
معلمة لغة عربة للناطقين بغيرها
مركز الأستاذة لتعليم اللغة العربية للناطقين بغيرها أون لاين
مركزالأستاذة لتعليم اللغة العربية للناطقين بغيرها أون لاين - أون لاين
معلمة لغة عربة للناطقين بغيرها
مركز النيل لتعليم اللغة العربية للناطقين بغيرها
مركز النيل لتعليم اللغة العربية للناطقين بغيرها - مدينة نصر
معلمة لغة عربة للناطقين بغيرها
مركز أبجدية لتعليم اللغة العربية للناطقين بغيرها
مركزأبجدية لتعليم اللغة العربية للناطقين بغيرها - مدينة نصر
معلمة لغة عربة للناطقين بغيرها
Diğer öğretmenlere göz atın:
Deneme Dersi
Tek Seferlik, 30 dakika