Renee geçici olarak mevcut değil.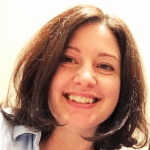 Renee Ryle
Amerika Birleşik Devletleri
•
5:26 AM (GMT-07:00)
Aktif Promosyon (

20%

off)
It's your lucky day! Use this coupon for 20% off!
Öğretmen İstatistikleri
Çok kısa sürede
3 yıl önce
100.00%
12
11.0 ders ortalaması
5.0
Öğretme Başarısı
Yeni Başlayan
Üst Başlangıç seviyesi
Orta düzey
Üst Orta seviye
İleri düzey
Üst İleri seviye
Özgeçmiş

Eğitim
A B.A. in Scientific and Technological Communications
Michigan Tech University - Houghton, MI, USA
Coursework focused on technical writing, graphic design, and user interface psychology

Çalışma Deneyimi
Instructor
Doshisha International Jr. Sr. High School - Kyotanabe, Kyoto, Japan
Bilingual language coursework design and project fulfillment in multicultural classroom/office environment at Japanese Ivy League-equivalent prep school. Sample Projects/Curriculum English Coursework: Robotics, Literature, Critical Thinking, Test Taking, English reading-level program design & implementation, DIVE Summer Camp design & implementation Implementation, and spread of online classes via Google Classroom. Duties: Curriculum design, instruction, planning & scheduling of 10-18 units per annum. Original document design & production, parent-teacher expectation management, confidential grading management of 250-550 students p.a. Student counseling and mentorship, staff-training and bilingual office support.
Instructor
Seika University - Kyoto, Kyoto, Japan
Designed curriculum and taught all 6 levels of English for Designers & Illustrators at a University known for educating upcoming manga and anime artists in Japan. Sample Projects/Curriculum ESL Coursework: Color Theory, Eastern vs. Western Design Psychology, Mathematics of Design, English for Designers Program for 200-300 students per annum. Created all course materials from research and expertise. Duties: ESL Instruction, Original Curriculum Design, Grading, Counselling, Online Databases, Online Research, Bilingual Meetings, Confidential Information.
Instructor
GEOS Corporation - Osaka, Osaka, Japan
Taught all levels of English to all ages, in private and group lessons. Sample Projects/Curriculum English Coursework: Test-taking, conversation, business English, travel & survival English, children's classes, etc. Class materials production, student-teacher expectation management, instruction of 35-42 classes per week. Student counseling and mentorship, monthly and yearly physical goal fulfillment, and office support.

Sertifikalar
Teach English as a Foreign Language Certification
GEOS Corporation - NYC, NY, USA; Vancouver, BC, Canada; Osaka, Osaka, Japan
TEFL Certification at hiring by GEOS included multi-week intensive coursework in theory and practice, culminating in taking over a school with 35-42 classes per week.
Diğer öğretmenlere göz atın: