Gelmiş geçmiş en büyük indirim! Ders paketleri %15 indirimli.
Kalan Süre:

00:20:28:47

(Kalan Kupon: 11)
Bu öğretmen şu anda öğrenci kabul etmiyor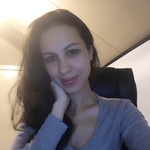 Riva P
Amerika Birleşik Devletleri
•
11:26 AM (GMT+08:00)
Hakkımda
Hi students! Please send me a message before booking a class. I offer incentives and personal promos every so often. Message me to find out!

I have 8 years of experience teaching English and Language Arts to adults and children (primary to high school). Having taught more than 10,000 online lessons, I use multiple approaches for a wide variety of students. All my classes are highly individualized to fit the unique needs of each student.
My overall method is to make language learning a natural process that leads to long-term acquisition.
My classes are fun and engaging and I am great at helping people "come out of their shell" or become confident and willing to interact in English.

I look forward to meeting you!
Let's begin our English journey together.



**** If you want to book a class at a time that is not currently open on my calendar, please reach out to me. My "prime time" or special request slots are $39 per lesson, which is my standard fee for private tutoring and includes a full class report (5+ pages) with detailed feedback, lessons, and assignments + supplementary materials per lesson. Discount Coupons (up to 50% off) are available. ****

Examples of what I have to offer:
assessments & evaluations
conversational practice
confidence building
critical thinking
discussion topics
business interview
school interview
editing
writing guidance
grammar
speech
sentence structuring
speaking formulas
dialogue
current events
test/exam preparation
accent reduction
enunciation
pronunciation
drills
textbook-lead lessons
story-lead lessons
listening comprehension
reading comprehension
vocabulary expansion
Devamını Oku
Deneme Dersi
Tek Seferlik, 30 dakika
Öğretmen İstatistikleri
Çok kısa sürede
vor 7 Jahren
100.00%
1 044
208.6 ders ortalaması
5.0
Özgeçmiş

Çalışma Deneyimi
Teacher & Evaluator
Kidsview Online School
Executive Director
Peninsula Ecosystems & Health Foundation Inc.
Teacher & Facilitator
School of Tomorrow, Home School Division
Teacher
YouWaijiao Online English School
Private Tutor
Editing assistance, English lessons, & Language Arts
Diğer öğretmenlere göz atın:
Deneme Dersi
Tek Seferlik, 30 dakika