Sarah geçici olarak mevcut değil.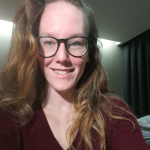 Sarah Sundac
Kanada
•
6:31 AM (GMT-04:00)
Konuşur
Ana Dil
,
C2
,
B1
,
A1
Deneme Dersi
Tek Seferlik, 30 dakika
Öğretmen İstatistikleri
Çok kısa sürede
2 yıl önce
100.00%
0
0.0 ders ortalaması
Yeni Öğretmen
Öğretme Başarısı
Yeni Başlayan
Üst Başlangıç seviyesi
Orta düzey
Üst Orta seviye
İleri düzey
Özgeçmiş

Eğitim
B.A. Music
University of Windsor - Windsor, Ontario, Canada
Focus on Music Performance and Education

Çalışma Deneyimi
English Teacher
American School - Cheongju, South Korea
A kindergarten and elementary school English teacher in Cheongju, South Korea. Responsible for following curriculum based on Korean standards, handling high volume of marking, testing, program training, and recruiting new students to attend through open classes. Working in a team-environment in coordination with other teachers with shared classes, ensuring books are completed with full comprehension by students.
Finance Cashier
Caesar's Windsor - Windsor, Ontario, Canada
Redemption of chips and casino instruments for cash, provide exchange rates and foreign currency exchange, payment of jackpots, navigates various system software programs (CMS, Avatar, HETCMS, Cashcall) for information and entering transactions, monitors all currency handled for counterfeit and fraud detection, balance cash inventories and all paperwork.
Piano Teacher
Tecumseh Music - Windsor, Ontario, Canada
Teacher for piano and vocal studies; responsible for teaching private students between the ages of five to fifteen. Responsible for administrating a goal-oriented lesson that is sensitive to each individual student's learning capabilities, and to learn music in respect to all spectrums of the discipline from ear-training, repertoire, and theory.
Cashier and Sales Representative
Ambassador Duty Free - Windsor, Ontario, Canada
Responsible for currency exchange up to $1000 at a time, reaching sales targets of promotional products, and provide exceptional customer service whilst multi-tasking between restocking liquor, goods, and handling till.
Reservist - Boatswain
Canadian Armed Forces - Windsor, Ontario, Canada
Training for the Canadian Armed Forces as a Navy boatswain. Focuses on discipline, duty and service for Canada either overseas or within the country. Receive instructions from a superior and plan work priorities and resources to achieve a goal. Achieve a high level of quality control in all activities, as well as apply safe practices in the workplace (weapons handling for example).
Diğer öğretmenlere göz atın:
Deneme Dersi
Tek Seferlik, 30 dakika