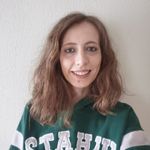 Semra Ismail
Yunanistan
•
2:36 PM (GMT+03:00)
Aktif Promosyon (

20%

off)
Get a %20 discount on your first lesson!
Konuşur
Ana Dil
,
Ana Dil
,
B2
Hakkımda
Hello and welcome! My name is Semra and I am a native speaker of both Greek and Turkish languages. I'm thrilled to be your language teacher and guide on your journey to mastering these beautiful languages.

I graduated from Aristotle University in Thessaloniki and have been teaching Greek and Turkish for many years now. My passion for teaching stems from my love for these languages and my desire to help people communicate more effectively and confidently in them.

As your teacher, I am committed to making your learning experience enjoyable and effective. I use a variety of teaching methods and materials to cater to different learning styles, and I personalize my lessons to meet your specific needs and goals.

Whether you are a beginner or an advanced learner, I'm here to help you achieve your language learning objectives. My goal is to help you communicate fluently and accurately in Greek, and to gain a deeper understanding of the cultures and people that speak these languages.

So, if you're ready to embark on this exciting journey, join me and let's discover the beauty of Greek language together!
Devamını Oku
Deneme derslerim
In my 30-minute trial lesson for Greek language, we'll start with a brief introduction where I'll get to know you and your goals for learning Greek. Then, we'll dive into a sample lesson where I'll introduce you to some basic vocabulary and grammar concepts. We'll also practice pronunciation and conversation skills through interactive activities. By the end of the lesson, you'll have a better understanding of the language and my teaching style.
Devamını Oku
Deneme Dersi
Tek Seferlik, 30 dakika
Öğretmen İstatistikleri
Birkaç saatte
2 yıl önce
100.00%
423
16.0 ders ortalaması
5.0
Öğretme Başarısı
Yeni Başlayan
Üst Başlangıç seviyesi
Özgeçmiş

Eğitim
B.A Biology
Aristotle University of Thessaloniki - Thessaloniki, Greece

Sertifikalar
Learning Difficulties
Democritus University Of Thrace - Komotini, Greece
Certified Computer USER
Aristotle University of Thessaloniki - Thessaloniki, Greece
Diğer öğretmenlere göz atın:
Deneme Dersi
Tek Seferlik, 30 dakika