Gelmiş geçmiş en büyük indirim! Ders paketleri %15 indirimli.
Kalan Süre:

01:21:01:49

(Kalan Kupon: 22)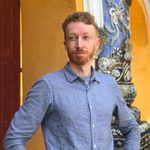 James McIntosh
Birleşik Krallık
•
9:53 PM (GMT-05:00)
Hakkımda
(If you cannot find a suitable time on my schedule, please send me a message and ask. There's a good chance I will be able to do the class at the time you want).

James here. From Oxford UK. Pleasure to meet you all.
I've been teaching English for over 3 years in different counties around the world and online.

I've taught students from all around the world: Brazil, China, Saudi Arabia, Vietnam, France and countless others.

I love to teach adults (Much more fun than teaching children) because you can have incredibly interesting conversations. I've taught adults of all levels, from beginner to advanced, both online and offline.

I teach English 6-7 days a week. I do this almost everyday! This is my regular job.

Here is what I can teach you;

- Everyday English (Travel, Hobbies, Finances, Booking a hotel etc)
- IELTS Speaking, Writing, Reading and Listening
- OET Exam Training for Nurses, Doctors & Pharmacists (Writing, Speaking, Reading, Listening)
- Pronunciation (Breaking bad habits, Mouth shapes, Using the IPA)
- Business English (Job Interviews, Workplace roleplays, business vocabulary, Sales skills etc)
- Grammar (Tenses, Prepositions, Idioms, Phrasal Verbs, Definite vs indefinite articles etc)
- Free Talk! (A talk about ANYTHING. Whether it's something simple: Family, Sports, hobbies. Or something far more complex: Artificial Intelligence, politics, economics, science).

Every lesson will come with homework (If you choose it) so we can build on your skills from lesson to lesson.

As a teacher, I want you to feel like you're improving every single lesson. After every lesson with me, you will leave feeling as though you truly learned something (Instead of feeling disappointed and confused).

So book a lesson today. I'd be happy to help you smash your English goals!

(Aged 16+ only please. I do not teach children or young teens)


Devamını Oku
Deneme Dersi
Tek Seferlik, 30 dakika
Öğretmen İstatistikleri
Aynı gün
3 yıl önce
92.00%
1.755
11.0 ders ortalaması
4.9
Öğretme Başarısı
Yeni Başlayan
Üst Başlangıç seviyesi
Orta düzey
Üst Orta seviye
İleri düzey
Üst İleri seviye
Özgeçmiş

Eğitim
BA Degree - Broadcast Media
Doğrulanmış
University of Brighton - Brighton, UK
I learned how to make movies, radio and TV shows.

Sertifikalar
TEFL Certificate
Doğrulanmış
TEFL Academy - Brighton, UK
Diğer öğretmenlere göz atın:
Deneme Dersi
Tek Seferlik, 30 dakika