Thaïs geçici olarak mevcut değil.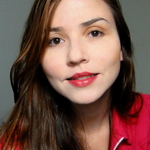 Thaïs
Brezilya
•
7:59 PM (GMT-04:00)
Öğretmen İstatistikleri
Çok kısa sürede
5 yıl önce
43.00%
231
16.1 ders ortalaması
5.0
Özgeçmiş

Çalışma Deneyimi
Freelance Interpreter
Several Interpretation Agencies - Location intependent
Has been working as an interpreter for interpretation agencies based in the US since March 2016.
Freelance Translator
Several Translation Agencies - Location independent
Has been working as a freelance translator for several translation agencies all over the world.
Consecutive Interpreter
Final Stage Productions - Rio de Janeiro, Brazil
8 days of intensive Chubbuck Method Acting Workshop (Teacher: Maria Psomas) • Interpreted the class itself, questions, answers and concerns presented during the classes • Served as a cultural mediator where necessary
English and German Teacher
Berlitz Idiomas; Instituto Poliglota - Fortaleza, Brazil
Worked for 1 year teaching English and German at Berlitz Idiomas (students of all levels); worked for 6 months teaching German at Instituto Poliglota.

Sertifikalar
Interpreter's Qualification Course
Brasillis Idiomas - Rio de Janeiro, Brazil
Focus in Simultaneous and Consecutive Interpretation
B. A. Communications
Universidade Federal do Ceará - Fortaleza, Brazil
Professional Certification in Video and Filmmaking
Escola de Audiovisual de Fortaleza - Universidade Federal do Ceará (Extensão) - Fortaleza, Brazil
Professional Certification in Drama
Curso de Arte Dramática (CAD) - Universidade Federal do Ceará - Fortaleza, Brazil