Tommy-Charles geçici olarak mevcut değil.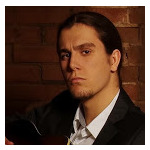 Tommy-Charles Bernier
Kanada
•
12:13 PM (GMT-05:00)
Konuşur
Ana Dil
,
C1
,
C1
,
C1
,
B1
,
A2
,
A2
,
A1
,
A1
Deneme Dersi
Tek Seferlik, 30 dakika
Öğretmen İstatistikleri
Birkaç günde
5 yıl önce
50.00%
217
6.8 ders ortalaması
5.0
Öğretme Başarısı
Yeni Başlayan
Üst Başlangıç seviyesi
Orta düzey
Üst Orta seviye
İleri düzey
Özgeçmiş

Çalışma Deneyimi
French teacher for handicapped and vulnerable students
École secondaire Polybel - Beloeil, Canada
French and history courses for classes composed of students with all kinds of handicaps
Private English teacher
La Maison Kekpart - Longueuil, Canada
Private English classes for vulnerable youth in a community center
Coaching in French Language
Champlain College Saint-Lambert - Quebec, Canada
Coaching for anglophones and allophones wishing to succeed in French
Quechua and Spanish Interpreter/Academic counselor
Intiwawa Peru - Arequipa, Peru
Academic counseling/coaching as well as interpretation from Spanish, to Quechua, to English

Sertifikalar
Pre-universitary degree in Human Sciences and Language
Champlain College Saint-Lambert - Quebec, Canada
Focus on language and its relation with society and medicine
Universitary Degree in Specialized Education
University of Quebec in Montreal (UQAM) - Quebec, Canada
Didactic and relational training for students with special needs
Hello, bonjour, hola, kuei, dear Verbling community, I would like to express an opinion. I was born...
Diğer öğretmenlere göz atın:
Deneme Dersi
Tek Seferlik, 30 dakika