Gelmiş geçmiş en büyük indirim! Ders paketleri %15 indirimli.
Kalan Süre:

03:05:23:12

(Kalan Kupon: 44)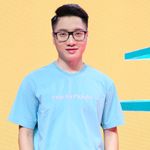 Tu Tran Tuan
Vietnam
•
1:31 AM (GMT+07:00)
Hakkımda
Hi, I'm Tu. I have 7 years of experience working at Vietnam Television as a TV host and editor. Therefore, I can confidently help you pronounce Vietnamese well.
My classes specialize in standard pronunciation. I will practice your spelling skills in a reflexive way like Vietnamese children.You can also familiarize yourself with some familiar sentence patterns that can be used immediately in communication
My lessons will always be fun. That's for sure. The lesson will be an interaction from both sides, from me and from you. By answering the questions, I can correct the pronunciation and grammar. If you are still shy about Vietnamese pronunciation, we will start with simple games. For the lesson to be effective, we will be friends first.

Devamını Oku
Deneme Dersi
Tek Seferlik, 30 dakika
Öğretmen İstatistikleri
Çok kısa sürede
bir yıl önce
96.00%
26
24.0 ders ortalaması
5.0
Öğretme Başarısı
Yeni Başlayan
Üst Başlangıç seviyesi
Orta düzey
Üst Orta seviye
İleri düzey
Üst İleri seviye
Özgeçmiş

Eğitim
Graduated from National Economics University
Hanoi
When I was a student, I became the voice of many TVCs

Çalışma Deneyimi
Diğer öğretmenlere göz atın:
Deneme Dersi
Tek Seferlik, 30 dakika