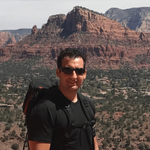 Wesley
Amerika Birleşik Devletleri
•
12:00 AM (GMT-04:00)
Hakkımda
*** I offer enjoyable, interactive lessons with quality materials that I will tailor to help you reach your goals***

I am happy you are thinking about choosing me as your teacher. I understand the challenges of learning a second language because I taught myself Spanish and now speak it fluently. I have taught more than 10,000 online lessons. If you need help with Basic English (pronunciation, listening comprehension, reading comprehension, writing, accent reduction), Business English, preparing for a job interview or an English test, then I am the teacher for you! Let's work together to achieve your English goals. Book a lesson with me and let's start the adventure together today!

Devamını Oku
Deneme derslerim
I will demonstrate a typical lesson that most of my students really enjoy.
Devamını Oku
Deneme Dersi
Tek Seferlik, 30 dakika
Öğretmen İstatistikleri
Birkaç günde
10 年前
100.00%
4.953
13.6 ders ortalaması
5.0
Özgeçmiş

Eğitim
TMS School
Public Speaking and Teaching Program.<br />I had been enrolled as a student in this ongoing training program for over 20 years and later taught for the school.
Canadian Institute Of English
Teaching English Second Language Training) (TESOL). I received my training from the renowned Harry Cotton, who has been training TESOL educators for over 30 years.<br />
120 Hour Tesol
Doğrulanmış

Çalışma Deneyimi
Beginner-Intermediate Accelerated Learning Spanish Class
Worked as an Instructor for an Accelerated Spanish Class that consisted of 26 students.
English Second Language Teacher
In 2008, I began Teaching English as an independent contractor. During this time, I was awarded the "New Teacher Of The Year" for one of the world's largest online English schools. More than 5000 online classes taught.<br />
Diğer öğretmenlere göz atın:
Deneme Dersi
Tek Seferlik, 30 dakika