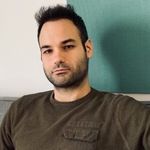 Yorgos
Birleşik Krallık
•
5:27 PM (GMT+01:00)
Konuşur
Ana Dil
,
C2
,
C1
,
B2
,
B1
,
B1
,
A2
,
Hakkımda
I greatly enjoy breaking words down and explaining how my language works. I teach through context, exposing students to stories *very* early on, while sneakily increasing the amount of Greek spoken in class.
My students are encouraged to produce their own texts and utterances once they are able to read, and get trained to need me less and less. I like linguistic comparisons, capitalising on languages my students speak, and explaining Greek through familiar structures.

Check out my website!
https://www.difficultgreek.com
Devamını Oku
Deneme Dersi
Tek Seferlik, 30 dakika
Öğretmen İstatistikleri
Çok kısa sürede
4 yıl önce
83.00%
6
6.0 ders ortalaması
5.0
Öğretme Başarısı
Yeni Başlayan
Üst Başlangıç seviyesi
Orta düzey
Üst Orta seviye
İleri düzey
Üst İleri seviye
Özgeçmiş

Eğitim
MA Linguistics, Language Description & Documentation
Leiden University - Leiden, Netherlands
MA Language & Linguistics
University of Aberdeen - Aberdeen, Scotland

Çalışma Deneyimi
Tutor and Proofreader for Academic English
Self-employed - Aberdeen, Scotland
Sharpening international students' performance in postgrad essays, through teaching them how to structure an academic paper, employ English academic-writing patterns, and present their ideas succinctly and coherently, adhering to academic standards.
English Tutor
Self-employed - Athens, Greece
Tutoring Greek pre-teens at A2-B1, guiding them through etymology, context and essay writing. Resources included animated series, songs and video games, according to students' individual interests. Observing what Greek speakers struggled with when learning English, granted me a solid understanding of my native language. In my current path as a Greek teacher, this has enabled me to mitigate two common challenges in teaching one's own mother tongue: comprehending intuitively-learnt structures, and seeing them through a non-native perspective.
Greek language teacher
Aberdeen Scottish Hellenic Society - Aberdeen, Scotland
Managing small adult classes. Culture, social register and etymology are integral parts of the teaching methods, enabling learners to develop an instinct for Greek. Oral practice is seamlessly incorporated in every interaction.

Sertifikalar
Teach English as a Foreign Language Certificate
TEFL Org - Inverness, Scotland
Level 5 TEFL Accreditation
Diğer öğretmenlere göz atın:
Deneme Dersi
Tek Seferlik, 30 dakika