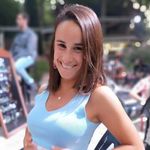 Andréa SIBELLA
法國
•
9:27 AM (GMT+02:00)
關於我
Hello,

My name is Andrea Sibella,
I just came back to France after one year in Malta, where I was working as a early-year practitioner in a childcare centre.
I have been working as a counselor with kids for 6 years, and now I also teach languages. I started teaching French with Verbling one year ago.

I travelled a lot and lived in several countries. Indeed I studied for one year in Italy, then I lived in New Zealand for a year and worked and lived in the USA for 4 months. Also, I have just spent one year in Malta. Thank to those experiences I am now fluent in Italian and English.

I also have a degree in "languages and literature" in English and Italian. I have always enjoyed learning languages and teaching my native language.
My first French teaching experience was in a summer camp in the US. The children were in French speaking immersion in that French Camp, so they could learn every day about French culture. There, I was leading French classes along with an American counselor. Most of my groups had a beginner to intermediate level. As it was not a language school, we had the chance to teach French with an entertaining approach. We adapted our class depending on the dynamic and energy of the group.
I think that the most important is to make sure the learners are enjoying their time during the class and passionated in the topics we choose.
I have tried many different jobs in the past years and I am always willing to learn new skills. Also, the fact that I moved many times and lived in different countries helps me to adapt myself in various environments. I would be happy to prepare my language classes making sure it is personalized and adapted to the person I am teaching to.
I am really looking forward to meeting many more students through Verbling and improving my language and teaching skills.
更多
老師統計資料
幾天之內
2 年前
97.00%
225
14.2 平均課程數
4.9
履歷

學歷背景
Licence de Langues, Littérature et Civilisations Etrangères
已認證
Université Champollion - ALBI
Licence de Langues, Littérature et Civilisations Etrangères (Anglais et Italien, option Histoire de l'art)

工作經驗
French Teacher and Counselor
已認證
Canoe Island French Camp - San Juan Islands, Washington, USA
French Teacher for kids with levels from beginner to intermediate
查看教授以下語言的更多老師::