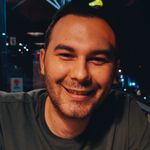 Uğurkan MISIR
土耳其
•
9:43 AM (GMT+03:00)
Use this coupon to get 30% off your first lesson!

關於我
Hello, I`m Ugurkan. I have been teaching Turkish to foreigners since 2015/16. Owing to my profession, I visited 40 countries so far.I truly believe that l can find a part from your culture.

Especially for Beginners, l have a uniq plan which you can easily see your progress. ( Please get in contact with me to see this programme if you have a curiosity)

For Intermediate and advanced level students, l check their needs and focus on necessary improvements by reading articles via BBC.

The way l follow in my sessions,
*Providing grammer support
*Playing games in Turkish so that you easily improve your vocabulary,
*Reading daily news in Turkish / English and having a conversation about daily topics.
I can help you via English,Turkish or Spanish.
更多
我的體驗課程
During the trial lesson, l will be explaining Turkish language structure; understand your needs and share plans.
更多
老師統計資料
一小時內
4 年前
98.00%
316
14.9 平均課程數
5.0
履歷

學歷背景
International Trade
Istanbul Commerce University - Istanbul, Turkey
International Commerce, Export-Import and Marketing.
查看教授以下語言的更多老師::