到期剩餘時間::

00:20:17:31

(剩餘優惠券: 22)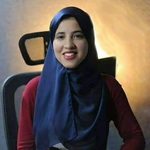 Mariam Ashoush
埃及
•
5:42 AM (GMT+02:00)
老師統計資料
幾天之內
4 年前
100.00%
45
5.9 平均課程數
5.0
教學專長
Modern Standard Arabic (al-fusha)
履歷

學歷背景
Bachelor Faculty of LAW
Ain Shams University - Cairo - Egypt
Diploma in presentation and preparation of Tv programs and Radio.
Arab Academy For Media Science - Cairo - Egypt
Training of Teaching Arabic as a foreign language
Cairo - Egypt
1.Arabic language skills as a second language and how to teach them 2.Employ modern and successful methods of teaching Arabic as a second language away from the traditional ways.

工作經驗
Arabic Teacher
WarQa & Qalm Team . - Cairo - Egypt
Arabic Teacher for kids to teach them in some creative ways .
Arabic language teacher for adults
Life Makers organization - Cairo - Egypt
Arabic language teacher for adults
Vodafone's national illiteracy eradication initiative . - Cairo - Egypt
Radio Announcer
HawaFM & ArabFM - Cairo - Egypt
Audiobook Narrator
AL-KUTUB Project - Cairo - Egypt
Audiobook Narrator For Arabic books, novels and articles
查看教授以下語言的更多老師::