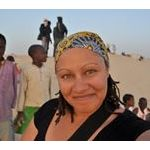 Akisha Pearman
美國
•
4:39 AM (GMT+02:00)
老師統計資料
非常迅速
5 年前
94.00%
95
9.6 平均課程數
5.0
履歷

學歷背景
MA in Higher Education Studies
University of Cape Town - Cape Town, South Africa
Focused on the semiotics of English Teacher training videos
MA in TESOL
The School for International Training - Brattleboro, Vermont
Focus on collaborative and reflective teaching methodologies
BA English/Spanish Literature
Cornell University - Ithaca, New York
PhD in Education
University of Cape Town - Cape Town, South Africa
Researching how creative training methods develop writing tutors in higher education

工作經驗
Writing Centre Consultant
University of Cape Town - Cape Town, South Africa
Helped writers of numerous different disciplines improve their academic writing
Senior English Language Fellow
United States State Department - Higher Institute of Sciences of Education, Lubango, Angola
Taught English classes, mentored and conducted teacher training workshops for local university, secondary and primary school teachers in Huíla, Namibe, Benguela, Cunene, and Luanda provinces. Planned and coordinated the first "English Weekend" uniting over 125 varied Angolan English speakers from 4 provinces. Produced student-written videos (filming & editing on iMovie) for 4 skills course at ISCED Huíla. Conducted needs assessments at local universities for Public Affairs project writers. Organized a week-long visit by Angolan university teaching students to the Luanda International School.
English Language Specialist
United States State Department - Namibe & Lubango, Angola
Produced, coordinated, filmed, photographed, and edited a pilot teacher training video and accompanying Teacher Guide sponsored and published by the US Embassy in Luanda, Angola for Angolan teachers of English.
English Language Specialist
United States State Department - Lurio University & Catholic University, Nampula, Mozambique
Conducted three-day ELT methodology workshop for nine Access teachers, and taught Access classes, focusing on American culture. Curriculum review at Lúrio and curriculum development advising. Presented at Symposium about ELT methodology, World Englishes, and Critical Pedagogy.
English Language Fellow
United States State Department - Eduardo Mondlane University, Higher Institute of Hotelary and Tourism, Inhambane, Mozambique
Taught English for Specific Purposes (Tourism English) to university students. Developed Tourism English curriculum that integrated student centered learning, competency-based assessment, technology, motivational instruction and reflective learning and teaching. Organized awareness building lecture series in English. Taught basic photography course to university students and produced final exhibition. Held monthly professional development workshops for local secondary school teachers. Organized and implemented a 3 day professional development conference for 150 teachers in Inhambane city and the surrounding area.
Resident Advisor
The School for International Training - Ellsworth Dormitory, Brattleboro, Vermont
Served as liaison between SIT staff and residents of dorms. Created safe, positive, comfortable atmosphere for students. Assisted residents with cultural adjustment issues.
English Language Co-Teacher
Gyeseong Girls High School - Seoul, South Korea
Co-taught second year high school English with a Korean teacher. Focused on communicative activities. Used technology to enhance lessons. Taught English conversation course to school faculty. Led weekly teacher training classes for school English teachers concentrating on oral communication methodology, teaching critical thinking, and reflective teaching.
English Instructor
Berlitz - Yeouido Island, Seoul, South Korea
Taught Business English and conversation to adults in popular business district. Customized lessons for students depending on interests.
Peace Corps Volunteer
Tete Secondary School - Tete, Mozambique
Taught multi-level ESL in public high school. Worked with local teachers to develop local resources and knowledge.
Peace Corps Volunteer
Lycee Miarinarivo (High School) & CEG Miarinarivo (Middle School) - Miarinairvo, Madagascar
Taught multi-level ESL in public Lyceé (high school) and CEG (middle school). Developed ESL program for elementary school children in conjunction with local teachers. Teacher training.
Telecourse Assistant
Central Piedmont Community College - Charlotte, North Carolina
Organized and helped implement the first telecourse for ESL in the Southeast called Crossroads Café. Designed the course as a series of checked-out booklets for students to study at home, handouts and activities.
Instructional Lab facilitator
Central Piedmont Community College - Charlotte, North Carolina
Organized a laboratory setting for approximately 800 students each semester. Gathered and catalogued materials, assisted students with computers. Assisted with registration and weekly CASAS testing of students to enter the program.
Voiceover Artist
Lobster Inc. - Cape Town, South Africa
I do voiceovers for training videos to train staff in the hotel and tourism sectors in the United States. Hotels include the Intercontinental Hotel, Crowne Plaza, The Courtyard Hotel, The Holiday Inn, and The Marriott Hotel among others
查看教授以下語言的更多老師::