到期剩餘時間::

00:14:27:37

(剩餘優惠券: 22)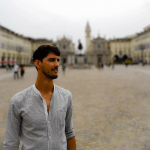 David Emanuelli
俄羅斯
•
12:32 PM (GMT+03:00)
老師統計資料
非常迅速
2 年前
100.00%
1
0.0 平均課程數
新老師
履歷

學歷背景
MA Linguistics: Language and Education
University of Amsterdam - Amsterdam, the Netherlands
Focus in Applied linguistics, Education
BA Modern Foreign Languages
University of Parma - Parma, Italy
Focus in English, Russian and Spanish, linguistics and literature

工作經驗
Teacher of English
I-Say English school - Kursk, Russia
Teacher of Italian as a second language
AIESEC – Teach Romanian Youth - Iași, Romania
I teach Italian to absolute beginners and intermediate students. The main aim of the project is to provide them with a solid language foundation to enhance their professional careers. The second aim is to stimulate the young to speak up in the modern Romanian society, especially after gaining experience with a new culture and language.
Private teacher of Italian as a second language
Amsterdam, the Netherlands
I offered private lessons to students enrolled in the BA Italian studies of the University of Amsterdam
Supporting teacher of Italian as a second language
Società Dante Alighieri - Auckland, New Zealand
Intern as a teacher of Italian as a second language
"Macedonio Melloni" high school - Parma, Italy
The purpose of this internship was to train foreign students who lacked the necessary proficiency level to study in Italian, by integrating Italian with the subjects of study and by preparing them for the certification Italstudio, designed at the University of Parma to assess the level of proficiency in academic Italian.
Teacher of Italian as a second language
South-West State University - Kursk, Russia
查看教授以下語言的更多老師::