到期剩餘時間::

01:11:02:13

(剩餘優惠券: 22)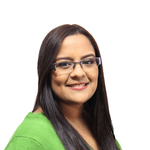 Ester Velasquez
阿根廷
•
9:52 AM (GMT-03:00)
關於我
Hello! My name is Ester. I would like to teach you Spanish but I also speak English. I live in Buenos aires, Argentina, my neutral accent is ideal for students looking to communicate easily with Spanish-speakers worldwide.
I have taught this language to beginners, intermediate and high levels from all ages. I personalize my teaching approach based on my student's needs and goals to help you improve your Spanish skills (grammar, pronunciation and fluency) my classes are fun, dynamic, interactive and you will have a lot of speaking opportunities. I like to offer my students different kinds of materials, such as videos, articles and games. A class with me is a safe place for you because I will never scold a student for a mistake done because I believe mistakes will be lessons learned.
I'm friendly, easygoing and a very patient teacher I want to be able to establish a natural connection with my student where he or she will be comfortable all throughout the class.

I really look forward to getting to work with you!
更多
老師統計資料
一天內
6 年前
99.00%
3 050
13.6 平均課程數
4.9
履歷

工作經驗
Profesora por hora
Unidad Educativa Privada: Señor Jesucristo - zulia,cabimas
enseñando idiomas a niños y adolecentes
Advanced English
Centro Venezolano Americano del Zulia (CEVAZ) - zulia,cabimas
Ingles avanzado para adultos

認證
Curso Superior Universitario De Profesor De Español Para Extranjeros ELE
Universidad Rey Juan Carlos - Madrid,España
Español para extranjeros ELE
查看教授以下語言的更多老師::