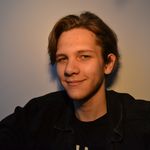 Ivan
波士尼亞與赫塞哥維納
•
3:12 PM (GMT+02:00)
關於我
Hi, my name is Ivan and welcome to my Verbling classroom.

I am a native English speaker from Australia and have been a Verbling teacher since 2020. Prior to that, I worked as a teacher's assistant and English tutor for school-aged kids.

I enjoy working with young people and have been a volunteer in several different programs as well as social groups, I often work with teenagers and adults who need assistance preparing for English tests, educational studies and any other assistance they may need with English.

I was born in Australia but moved to Bosnia with my family as a young child but English is still very much my native language.

I am currently studying English language and literature at university, pursuing my dream to teach English at the ultimate level.

My lessons are fun, informative and I have plenty of different materials that we can work with. I am also happy to incorporate any materials my students have, especially if it will help them with their own studies.

As a student learning a different language, I understand the challenges and this has motivated me to further my studies to become a fully qualified English teacher.

I look forward to meeting new students and am happy to work with young teens and those that are young at heart.

Please send me a message and say HELLO and please do not hesitate to reach out and ask me any questions you may have.
I hope to be chatting with you soon.

Note: Verbling lessons may only be attended by those 13 years of age and older, with minors (13-17) requiring prior parental permission.

更多
我的體驗課程
In our trial lesson we will:

Introduce ourselves and get to know each other better.
My aim is to find out what help you need with English (speaking, grammar, etc.)
After finding out what your goal is, I will go into a further explanation of how I can help you.
At the end of the lesson, I will give you essential tips to improve your English language skills and what our lessons will look like if you wish to continue.
If you have any questions before the lesson let me know in the chat.
更多
老師統計資料
幾個小時內
3 年前
100.00%
1.236
7.8 平均課程數
4.9
教學專長
American English
Australian English
British English
New Zealand English
履歷

學歷背景
Computer Technician
High School "Kresevo" - Bosnia & Herzegovina
Focus in Computer Science & Electrical Engineering,

工作經驗
English Language Teacher
Busuu
- Lesson planning in accordance with Busuu standards. - Creating high-quality lessons to improve a student's English language skills. - Giving superb customer service to Busuu's customers.
Freelance Content Writer
Writing blogs and articles on various topics and websites
Private English tutor
Bosnia & Herzegovina
Collaborate with local teachers to improve grades, developing methods of teaching with young children e.g. flashcards etc. Privately working with students to improve their English language skills, tailoring sessions specifically to their needs.
Volunteering with FRAMA / Franciscan Youth
Frama BiH - Bosnia & Herzegovina
Organizing regular educational programs for children and teenagers, active organizer in the Kids Summer Camp Program, developing & organizing various activities for children and teenagers, Team Leader, Supervising & Implementing activities
Teachers Assistant
High School "Kreševo" - Bosnia & Herzegovina
Group work, correcting pronunciation, conversation exercises, tutoring
Student representative for CHAMPS B&H
Mine Detection Dog Center in BH - Sarajevo, Bosnia & Herzegovina
Video conferences with students from the USA, spokesperson for CHAMPS B&H, liaising with representatives of the US Embassy and visiting senators & congressmen from the USA

認證
TEFL - Teaching English as a Foreign Language
Udemy, Inc.
Focus in teaching English as a foreign language. Instructing non-English speakers in how to read, write, and speak English.
TESOL - Teaching of English to Speakers of Other Languages
Udemy, Inc.
Focus on teaching reading, writing, speaking, and listening skills, vocabulary learning and teaching, and grammar and sentence structure. As well as understanding the importance of collaborating with co-workers and management, facilitating group work in the class to achieve second language acquisition objectives and goals.
查看教授以下語言的更多老師::