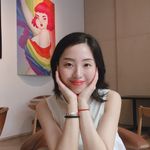 Erika YANG
中国香港特别行政区
•
1:01 PM (GMT+08:00)
关于我
Hi Im Erika,i grew up in mainland China,Mandarin is my mother tongue.
I've been living in HongKong for more than 4 years ,I used to be a Mandarin teacher in an education centre.
I would like to help people from all over the world to improve Mandarin skill,if you have interest in learning Mandarin,please get in touch with me.

six kinds of lessons provided
-For beginners:syllable+four tones.
-Mandarin for business-mainly on reading and speaking--Adults only.
-Test-IGCSE for teenagers only
-HSK for adults
-For None-Chinese Speaking(NCS) teenagers to learn mandarin/Chinese
-For Chinese students from local schools

Thank you!

更多
教师数据统计
一天之内
5 年前
99.00%
371
61.5 课程均价
5.0
简历

教育
MA in Chinese language and literature
The HongKong polytechnic university - HongKong
BA in Chinese language and literature
Hangzhou Normal university - China

认证/证书
Certificate for Teachers of Chinese to Speakers of Other Languages
Confucius Institute Headquarters - China
National Proficiency Test of Putonghua
查看更多教授该语言的老师: